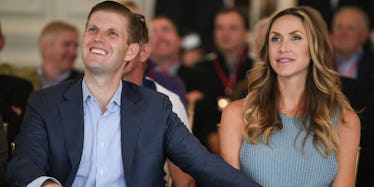 Donald Trump's Newest Grandchild Was Just Born And The Name Is Too Perfect
Jeff J Mitchell/Getty Images
Donald Trump's got one more addition to his already sprawling family. Trump's third oldest child, Eric Trump and his wife Lara announced the birth of their son on Tuesday, Sept. 12. This is Eric and Lara Trump's first child and Donald Trump's ninth grandchild.
Eric Trump made the happy announcement on Twitter and Instagram on Tuesday. He wrote on Twitter that he and Lara "are excited to announce the birth of our son, Eric 'Luke' Trump at 8:50 this morning." It's unclear exactly what those quotes around "Luke" mean, but the baby's first name has a clear intention. Eric Trump is following in his father's footsteps of naming children after parents. His brother, for instance, is Donald J. Trump Jr., while his sister Ivanka's name copies her mother's name, Ivana (Donald's first wife).
Eric "Luke" Trump is the president's ninth grandchild. Ivanka Trump and Jared Kushner have three children, and Don Jr. and Vanessa Trump have five children. Holidays are sure to be a loud affair in the White House, should they all choose to celebrate something there.
Eric Trump's siblings are posting well-wishes on social media, with some familial ribbing involved. Don Jr. tweeted,
Congrats buddy. Welcome to the club. Now that the niceties are out of the way it's older brother revenge for that drum set to my kids
Ivanka tweeted a "welcome to the world," adding that she "can't wait to meet you" to her new nephew.
Eric Trump also took to Instagram to announce his child's birth, and Ivanka Trump reposted his image.
We're still standing by to see if Donald or Melania Trump will take to social media to announce their own congratulations to the couple. Elite Daily reached out to the White House for comment from the president on his grandson's birth. So far today, he's tweeted about Hurricane Irma and "#FAKE NEWS!"
Eric Trump announced that Lara was pregnant on Twitter in March, saying they were "adding a boy to #TeamTrump" and that "we are blessed!" He told People that they found out about the pregnancy on his birthday, which is Jan. 6. Lara told People in March that the pregnancy exhausted her at the beginning, but she was "feeling really good" later on. Back in March, they were still deciding on their son's name, with Eric telling People,
We really loved the name Charlie, but we'd already named our dog that, so it's out.
Also in that interview, Lara said that "Eric's dad was so excited" about the pregnancy that they were worried he'd "blurt it out at a press conference" before they were ready to make the announcement.
Lara and Eric Trump were married in November 2014 at the president's Mar-a-Lago resort in Florida. Lara Trump has stepped into the Trump spotlight somewhat by hosting a sort of news show on Facebook Live, starting in July. It was broadcast via President Trump's Facebook account, with the intention of going against "fake news." Lara told viewers in the first show,
I bet you haven't heard about all the accomplishments the president had this week because there's so much fake news out there.
Lara Trump previously spoke at events during the presidential campaign and she worked as a producer at CBS. She has also made news for supporting a controversial animal rights group.
Eric Trump, meanwhile, oversees the Trump Organization along with his brother Don Jr. They were left in charge when their father took on the role of President of the United States. The Trump Organization's website says that Eric is an executive vice president "responsible for all new project acquisition, development and construction around the world."
And now he has the added responsibilities of being a father. We wish him and Lara all best with little Eric!