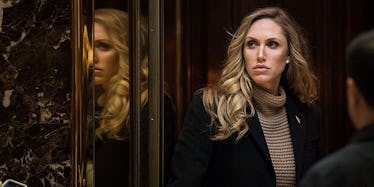 Lara Trump Is Stepping Into The Spotlight With "Real News" Videos
Drew Angerer/Getty Images
Speaking out against "fake news" is nothing new for the Trump family. One of the latest efforts, though, is coming from a lesser known member. Lara Trump says she's now bringing the real news to President Donald Trump's supporters through a show broadcasted via Facebook Live.
Don't worry if the first question on your mind is "Who?" You're probably not alone. Lara Trump is one of the least talked about members of the president's family.
So, perhaps a little introduction is order.
Who is Lara Trump?
Lara Yunaska became Lara Trump when she married the president's second son, Eric Trump. The wedding ceremony happened back in November 2014, and was held at President Trump's Mar-a-Lago resort in Palm Beach. Prior to their marriage, Lara and Eric Trump were together for six years, according to Daily Mail.
Trump has had a couple of notable moments in the media spotlight during 2017, via reports that focus on her support of an animal rights group as well as her and Eric Trump's expectancy of a new child, among other reports. This will be their first child.
Her most notable foray into the news cycle came this past Sunday, July 30, when she streamed a live broadcast on President Trump's Facebook account to combat "fake news." According to BuzzFeed, Trump told viewers,
I bet you haven't heard about all the accomplishments the president had this week because there's so much fake news out there.
Trump proceeded to cover stories like the president and Vice President Mike Pence meeting with veterans and President Trump facilitating a deal that could bring an Apple manufacturer to Wisconsin.
Contrary to her rhetoric, though, those stories had already been covered by mainstream outlets, like the Washington Post.
That Trump would take on such a project isn't all that surprising, given her background. She'd spoken at events during president Trump's campaign and has experience working in television, most notably as a producer for CBS, per New York Daily News.
Before ending the stream, Trump reportedly ended like many other news broadcast do, with a tagline. She said,
Thanks for joining us, everybody. I'm Lara Trump, and that is the real news.
It's unclear how often she'll appear for similar "real news" streams.