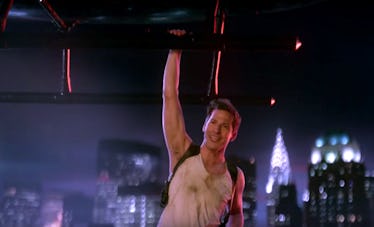 The First Full Trailer For 'Brooklyn Nine-Nine' Season 6 Goes Full 'Die Hard'
NBC
After a close brush with death earlier this year, nothing makes more sense as a way to tease the resurrected Season 6 of Brooklyn Nine-Nine than a tribute to Die Hard. That's right — the full trailer for Brooklyn Nine-Nine Season 6 is finally here, and it shows our favorite New York City cops paying homage to Jake Peralta's favorite movie.
The newly released Brooklyn Nine-Nine trailer turns up the action as Jake Peralta does his best John McClane impression. The trailer shows a surprisingly confident and adept Jake, in McClane's iconic tank top, saving Amy, Terry, and Rosa from a rooftop before jumping onto a helicopter as the building explodes. But of course, the Die Hard scene is all in Jake's mind, as we see that he is actually pitching the scene to Captain Holt as the new recruitment video for the 99th precinct. Unsurprisingly, Holt flatly turns down Jake's idea, even after Jake offers to cut Terry from the video.
The Season 6 trailer is Brooklyn Nine-Nine's latest homage to Die Hard. The Bruce Willis action classic is widely referenced throughout the first five seasons of the show, holding a place in Jake Peralta's heart as his favorite movie and one of the reasons he became a cop. Most notably, an episode in the show's third season, "Yippie Kayak," had Jake excitedly channeling John McClane during a store robbery, and in the show's most recent fifth season, Jake gets to check out the building that portrayed Die Hard's iconic Nakatomi Plaza.
Check out the Die Hard-inspired Brooklyn Nine-Nine Season 6 trailer for yourself below:
While Die Hard is a tried and true reference choice for Brooklyn Nine-Nine, it is also the perfect movie to pay homage to after the show itself recently cheated death. As the fifth season was about to end in May of this year, its network Fox announced that it would not be ordering another season of the cop sitcom. But thanks to a massive outpouring of fan support on social media, NBC picked up a sixth season of Brooklyn Nine-Nine the very next day. The move to NBC seemed to make sense given Fox's declining interest in sitcoms and both star Andy Samberg and co-creator Mike Schur's extensive history with NBC.
And the move also has fans curious to see if Season 6 might differ from the first five season at all. Brooklyn Nine-Nine dropped its first major Season 6 bombshell a couple of months ago, when Chelsea Peretti revealed that she would be leaving the show this season. Peretti plays the fan-favorite character Gina Linetti, Captain Holt's sarcastic and street smart assistant, but fans will have to say goodbye to Gina at some point in Season 6. Don't think that Gina's farewell means Brooklyn Nine-Nine is nearing its end, though. NBC recently gave the sixth season an additional five episodes, upping its Season 6 order from 13 to 18 episodes. That show of faith seems to suggest that NBC is interested in keeping the Nine-Nine around for a while.
Season 6 of Brooklyn Nine-Nine will premiere on NBC on Thursday, Jan. 10 at 9 p.m. ET.