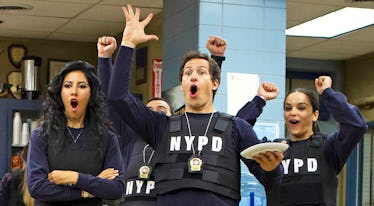 NBC Just Ordered Even More Episodes Of 'Brooklyn Nine-Nine'
Fox
After a recent brush with cancellation, the Nine Nine is back and stronger than ever. Back in May, Fox shocked Brooklyn Nine-Nine fans by cancelling the cop comedy after five seasons, but NBC swooped in to save the fan-beloved sitcom, and now the network is giving Brooklyn Nine-Nine even more love by upping its episode order. So, how many episodes will Brooklyn Nine-Nine Season 6 have? Fans will be very happy to hear the latest news about the upcoming season.
Over the weekend, NBC announced that it is picking up an additional five episode of the new season of Brooklyn Nine-Nine. The network originally picked up the series for a 13-episode sixth season, so that means that the new season is now bumped up to 18 episodes. This is still less than the 22- and 23-episode long seasons that the first five seasons of Brooklyn Nine-Nine enjoyed on Fox, but it definitely shows the series' new network has a ton of faith in the continuation of the Nine Nine squad.
No doubt, the incredible fan support that has recently exploded over Brooklyn Nine-Nine was influential in this increased episode order. Back on May 10, Fox announced that it was cancelling Brooklyn Nine-Nine after five seasons. The shocking news led to a massive response on social media, as hashtags like #SaveB99 and #RenewB99 catapulted the show to be the top trending term of the night. There were murmurings that Hulu may save Brooklyn Nine-Nine, but instead, on the day right after Fox had canceled it, NBC announced that it would give the series a sixth season.
The NBC pick-up felt like something of a perfect match for Brooklyn Nine-Nine, which always seemed a bit out of place on the sitcom-light Fox. It is a homecoming both for star Andy Samberg, who gained his fame as a standout cast member on NBC's Saturday Night Live, and for the show's co-creator Mike Schur, who is best known for his work on NBC sitcoms like The Office, Parks & Recreation, and The Good Place. Now that it is on NBC, Brooklyn Nine-Nine will join Schur's two other series on the network: the posthumous philosophical comedy The Good Place and the upcoming Natalie Morales-fronted bar comedy Abby's.
As for what fans can expect from the now-expanded sixth season of Brooklyn Nine-Nine, the cast and crew are keeping relatively tight-lipped. Thankfully, the entire main cast is returning with the network jump, so it does not seem like that will interrupt things within the Nine Nine squad too much. The fifth season of Brooklyn Nine-Nine ended memorably with Jake Peralta (Andy Samberg) and Amy Santiago's (Melissa Fumero) wedding, after seasons upon seasons of will-they, won't-they teasing. There was also a cliffhanger leaving fans in suspense over whether Captain Holt (Andre Braugher) had been appointed Commissioner or not. Fans can expect Season 6 to finally answer that Captain Holt question, and to also give us a look into Jake and Amy as a married couple.
NBC has not yet announced an official premiere date for Brooklyn Nine-Nine Season 6, but it is expected to debut in late 2018 or early 2019.