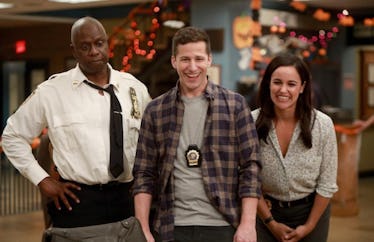 'Brooklyn Nine-Nine' May Not Be Canceled After All, Thanks To Hulu & Fans Are Rejoicing
FOX
Fans were devastated when FOX canceled cop comedy Brooklyn Nine-Nine earlier this week, sharing so much of their grief on Twitter that the cancellation news and a call for a renewal made the site's list of trending topics. Over the years, the series, which wraps up its fifth season on May 20, has developed a pattern of being renewed at the last possible minute, which is perhaps why some fans are still optimistic about the show continuing somehow. Now, those viewers may have a legitimate reason to hope for Season 6 — Brooklyn Nine-Nine may move to Hulu after FOX canceled it, and fans are keeping their fingers crossed.
Entertainment Weekly reports that following the heartfelt response to Brooklyn Nine-Nine's cancellation, the show's studio, Universal Television, and Hulu, which currently owns its streaming rights, are discussing the possibility of reviving the series together. One source even tells the magazine that other outlets are interested in picking up the series (Amazon Prime, you hiding or something?). The discussion likely wouldn't lead to an immediate decision, so if a move to Hulu does pan through, we may have to wait longer than just the standard summer break for another Brooklyn Nine-Nine season. But still, in this case, some news is better than no news.
This wouldn't be the first time Hulu swooped in to save the day after FOX collectively crushed millions of fans' hearts. In 2015, Hulu worked with Universal TV when it picked up FOX original The Mindy Project, which was canceled after three seasons on broadcast TV. It ran on Hulu for three more seasons, which is definitely a good sign for how Brooklyn Nine-Nine could grow if it ends up on the streaming platform.
Fans would definitely appreciate the renewal after experiencing such shock about the show's cancellation. While Brooklyn Nine-Nine isn't an award show favorite, viewers have praised its most recent season for handling serious, socially relevant situations amidst its jokes. Star Andy Samberg is particularly proud of Season 5, telling EW before the show's cancellation:
I think we've had an incredible season. I feel really proud of the episodes. I feel like we've had a really nice upswell, culturally. There was a lot of attention around the 99th episode and we got a lot of love during the Olympics, which was really cool... I certainly feel we're in a good place, but as to whether or not we get more, that's obviously far beyond my reach. But fingers crossed.
In between mourning the series, fans on Twitter also called out streaming services to save the show, and when news of Hulu considering a renewal broke, they simultaneously celebrated and begged Hulu for a final decision.
It doesn't hurt that the show even has celebrity fans rooting for it online. Lauren Graham, Hamilton scribe Lin-Manuel Miranda, and even the Backstreet Boys were upset about Brooklyn Nine-Nine's cancellation, but their stamps of approval have clearly contributed to these tentative renewal discussions.
Showrunner Dan Goor has retweeted several fans' messages of support for the series, sending out his own tweet when Brooklyn Nine-Nine was canceled:
Goor has yet to acknowledge the rumors about a Hulu pickup online, but if anything is finalized, we can definitely turn to his Twitter page for more details.
While fans wait for any developments on the Hulu front, they still have the Season 5 finale (and, for now, the series finale) to look forward to. Jake (Samberg) and Amy (Melissa Fumero) will finally tie the knot in the episode, so if their wedding has to be the show's end, at least it'll be emotionally satisfying. I'll still keep my fingers crossed for speedy news about the show's future!
Season 5 of Brooklyn Nine-Nine returns on Sunday, May 13 before concluding on May 20 at 8:30 p.m. ET on FOX.