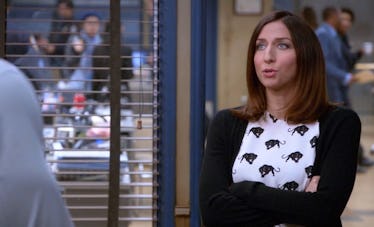 Chelsea Peretti Is Leaving 'Brooklyn Nine-Nine,' But There's A Sliver Lining
Fox
The Brooklyn Nine-Nine squad is going to get a little smaller after the new season premieres on NBC. Chelsea Peretti, the comedian and actress who plays the brash, sarcastic, fan-favorite office administrator Gina Linetti, just announced that she will be leaving the cop sitcom partway through its upcoming sixth season. Obviously, fans are crushed to hear about this, but although Chelsea Peretti is leaving Brooklyn Nine-Nine, she did say that Gina might not be completely gone forever.
For five seasons, Chelsea Peretti's character of Gina Linetti has been one of the most fan-beloved parts of Brooklyn Nine-Nine, but Peretti tweeted on Wednesday that she would be exiting the series before the upcoming sixth season ends. Although all that Peretti really said was that she would not appear in Season 6 for the full season, she continued tweeting a long and heartfelt goodbye that definitely makes it sound like she is stepping away from the show for good... except for some possible guest roles down the line. Thankfully, there was one silver lining: Peretti did say that although she's leaving Brooklyn Nine-Nine, that does not mean she will never return, teasing that she will still likely appear in a guest star capacity in seasons to come.
Chelsea Peretti did not give an exact reasons for her departure from Brooklyn Nine-Nine, but she did reference Emmy Rossum's recent departure from Shameless, indicating that she feels similarly to stepping away from her years-long TV family. Check out all of Peretti's goodbye tweets below:
Brooklyn Nine-Nine's showrunner Dan Goor shed some more light on the situation. Goor wrote that he and the rest of the show's writers have been working on a storyline that makes sense for why Gina Linetti would leave the precinct behind. He also assured fans that Gina will definitely be back at some point down the line.
Although this sounds like the big goodbye, this is not the first time that Chelsea Peretti has stepped away from Brooklyn Nine-Nine. Peretti only appeared for half of the recent Season 5, as she was on maternity leave. It sounds like Peretti will still be in much of the Season 6 episodes as well. With the news that NBC picked up five extra episodes of the new season last month (bringing the run up from 13 to 18 episodes for Season 6), there is a chance that Gina Linetti's farewell happen at around Episode 13.
Season 6 of Brooklyn Nine-Nine is not only going to be a major one because of Chelsea Peretti's exit, but also because it will be its first run of episodes on NBC. During the final episodes of Season 5, Fox announced that it was not going to pick up any more seasons of Brooklyn Nine-Nine. This led to a massive outpouring of support from Brooklyn Nine-Nine fans on social media, and the very next day, NBC announced that it had ordered a sixth season of the cop sitcom. The new season is expected to premiere sometime this winter.