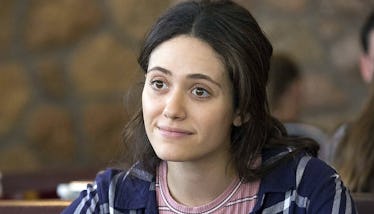 Emmy Rossum Announced She's Leaving 'Shameless' In An Emotional Facebook Post
Showtime
Season 9 of Shameless is due to premiere on Sunday, Sept. 9, but one of our favorite Gallaghers might not be present for long when we revisit the family's complex shenanigans. Emmy Rossum is leaving Shameless, and her statement explaining the decision is heartbreaking.
Rossum has been at the helm of the Showtime dramedy since it began in 2011 and introduced the dysfunctional Gallagher family, in which Rossum played the oldest of six children. In the Season 8 finale, Rossum's Fiona was last seen "going Gallagher" and driving squatters out of her apartment, but it looks like fans worried that Fiona will disappear without explanation in between Seasons 8 and 9 can rest easy. In its tease of the upcoming season, E! News writes, "Rossum's character Fiona tries to build on her success with her apartment building, but in order to do so she makes a risky and possible expensive gamble to get herself to the next level."
For now, Fiona is here to stay, but in her Facebook post announcing her departure, Rossum doesn't mention when her character will officially exit Shameless. Instead, she focuses on what the experience has meant to her, saying:
Until Shameless came into my life 8 years ago, I led that kind of transient wonderful life of an actor. And I never realized how much I actually craved the kind of continuity that this show has given me. And given all of us in the crew. Season after season I'm amazed that our same crew comes back. And it's not just because it's a wonderfully written, wonderfully layered show. There are these real connections, real friendships that bring us back season after season after season... See, in real life, unlike Fiona, I'm an only child. I never had a big family. Being ensconced in that messy Gallagher family love is something I'd always dreamed of. But even off set, it feels real.
In her post, Rossum shares memories of teaching co-star Emma Kenney how to shave her legs, seeing castmates dance at her wedding, and watching Ethan Cutkosky learn to drive. She also praised the character of Fiona before closing the message with a goodbye.
The opportunity to play Fiona has been a gift. There are few characters — female or otherwise — as layered and dynamic. She is a mother lion, fierce, flawed and sexually liberated... She is resourceful. She is loyal. She is brave... I know you will continue on without me, for now. There is much more Gallagher story to be told. I will always be rooting for my family. Try not to think of me as gone, just think of me as moving down the block.
The news comes nearly two years after Rossum resolved a Shameless contract dispute, during which she reportedly fought for the same amount of pay as William H. Macy (Frank Gallagher). Despite rumors that Rossum would leave the show if the dispute wasn't settled, she then assured fans that the issue had been resolved and that she was continuing work on the series. Now, Rossum's exit seems to be a case of her wanting something new in her career.
Meanwhile, seeing as the Shameless social media accounts have already released Season 9 promos involving Rossum, we don't have to start crying about losing Fiona right away. According to E!, Season 9 is currently filming, and after premiering in September, the second half of the series will begin in January 2019. Can we anticipate a mid-season exit of Fiona, or will it be a true season finale farewell?
We'll have to wait and see how Fiona's storyline progresses this season and when it leads to a possible exit point. I don't know how the Gallaghers will function without her around, but hopefully, fans have the chance to see how the family manages in that new chapter.
Season 9 of Shameless premieres at 9 p.m. ET on Sunday, Sept. 9, on Showtime.