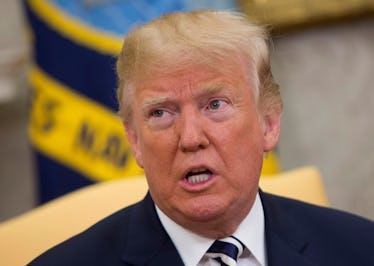 The French Government Clapped Back About Donald Trump's Tweet Blasting France
Pool/Getty Images News/Getty Images
Tuesday, Nov. 13 marked the three-year anniversary of the deadliest terrorist attack in France's history, when gunmen opened fire on dozens of attendees at Bataclan concert hall in Paris and suicide bombers struck all across Paris in 2015. That day, countries came together with France to honor those 130 lives lost, but there's one key individual who decided to focus on other issues. The French government's response to Donald Trump's tweet about France is calling out the president for a lack of "common decency." Yikes.
On Tuesday, while other nations were mourning with France over the the three-year anniversary of the attack, Donald Trump decided to take a different approach to the subject by going on complete Twitter rant. That day, Trump posted a series of tweets not only blasting France's President Emmanuel Macron, but also their economy, their military, and even their wine. Clearly Trump's Twitter tirade didn't have the best timing, and according to Reuters, French government spokesperson Benjamin Griveaux had some strong words for the world leader following his remarks.
"Yesterday was Nov. 13, we were commemorating the murder of 130 of our people," Griveaux said. "So I'll reply in English: 'common decency' would have been appropriate." Elite Daily reached out to the White House for comment about Griveaux's response, but did not hear back in time for publication.
Even though Trump might have been busying airing his opinions on Twitter, others were focusing on honoring the anniversary of the 130 who were killed during the attacks. On Nov. 13 and 14, 2015, over a hundred people were killed in a series of attacks around the French capital, including 90 people attending a show at the Bataclan concert hall, where gunmen who opened fire during the concert. Others were killed across the city in attacks on bars and restaurants, and three suicide bombers exploded devices outside the Stade de France during an international soccer game, which was attended by then-President Francois Hollande. Among the many mourning the anniversary was French President Emmanuel Macron, who took to Twitter to emphasize that the day, and those individuals, would never be forgotten. He wrote, as translated from French,
Three years have passed but nothing is forgotten. November 13 has entered the memory of the entire nation, where each victim stands. We will never forget them: they remind us of the strength of that which holds us together and cannot be destroyed.
It's no secret that these two world leaders don't necessarily have the closest friendship. In April, Macron visited Washington, D.C. for a three-day stay as a part of the Trump administration's first state visit and dinner. Truth be told, it honestly looked like these two might become fast friends at first, especially since they were getting apparently getting along fine during a White House meeting. However, a few days after Macron's visit to the White House, the French leader made a speech to Congress that challenged some of Trump's controversial and divisive political ideals. He said,
We have two possible ways ahead. We can choose isolationism, withdrawal, and nationalism. This is an option. It can be tempting to us as a temporary remedy to all fears. But closing the door to the world will not stop the evolution of the world. We have to keep our eyes wide open to the new risks right in front of us.
Macron also discussed his opposition to "closing the door to the world," which might have been a nod to the Trump administration deciding to pull out of the Paris Agreement and Trump's rhetoric about the border wall.
Well, it doesn't look like they'll be rekindling that friendship anytime soon. Regardless of what Trump tweets, our thoughts are with France on their tragic three-year anniversary.