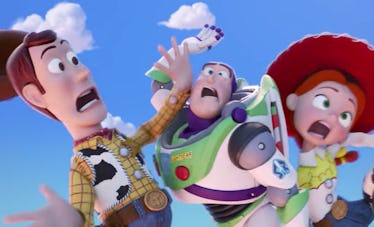 The First 'Toy Story 4' Trailer Reunites Us With Our Old Friends & Introduces A New Toy
Disney
Nearly a decade since we last saw them, the toys that we know and love are finally back for another story. Disney just released its first Toy Story 4 trailer, which finally gives us our first look at the what Woody, Buzz Lightyear, Jessie, and the rest of the iconic cast of toys have been up to since having to say goodbye to Andy in Toy Story 3. And although things seem to be going great at first, the new teaser also introduces a chaotic new "toy," who causes mayhem in the teaser clip.
The first-look teaser starts off with Woody, Buzz Lightyear, Jessie, Mr. Potato Head, Mrs. Potato Head, Rex, Hamm, Slinky Dog, and an alien toy all serenely twirling hand-in-hand to a peaceful Joni Mitchell song... but that joy and peace quickly comes to an end when a strange new toy appears. A spork with googly eyes and pipe-cleaner hands shrieks "I don't belong here!" and begins to panic, causing all of the other toys to trip and fall into one another. After all the chaos, we see this strange spork run up to the camera and scream, "I'm not a toy!" before running off.
Check out the new Toy Story 4 teaser trailer for yourself:
So, you are probably wondering who this mysterious spork character is, and luckily, Disney gave us an answer in the video description for this teaser. Apparently, this new character is named Forky, and he is a reluctant new toy that their new owner Bonnie adds to her room. According to the description, Forky's identity crisis will lead to a road trip adventure that will show all of the toys just how big the world can be outside of a child's room:
Woody has always been confident about his place in the world and that his priority is taking care of his kid, whether that's Andy or Bonnie. But when Bonnie adds a reluctant new toy called "Forky" to her room, a road trip adventure alongside old and new friends will show Woody how big the world can be for a toy.
This adventure into the real world will also reunite Woody with an "unexpected old friend. Since Pixar boss John Lasseter has already teased that Toy Story 4 will center on a love story between Woody and Bo Peep and address Bo Peep's absence from Toy Story 3, it seems pretty likely that this old friend will be Bo Peep.
Toy Story 4 has been in the works for quite some time. The movie was first announced at the end of 2014 with John Lasseter attached to direct and writing duo Rashida Jones and Will McCormack on board to pen the screenplay. However, that all changed last year. Lasseter exited his directorial role, giving the position to Inside Out writer Josh Cooley, and Jones and McCormack also exited the movie. The new screenplay comes from Thor: Ragnarok writer Stephany Folsom.
Toy Story 4 is slated to make its big premiere on June 21, 2019.