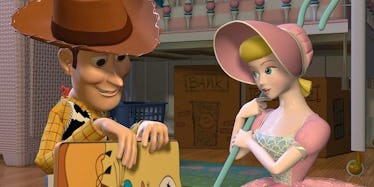 'Toy Story 4' Is Going To Be About A Romance Between Woody And Bo Peep
Buena Vista Pictures
It's lucky fact toys don't age because this love story is 20 years in the making.
"Toy Story 4" is coming to theaters in 2017, and young(ish) fans who spent their entire lives watching Bo Peep flirt mercilessly (just me?) with Woody finally get to see their hopes for the pair come true.
In an interview with CNBC, Disney's John Lasseter claimed the latest installment in the series will not exactly pick up where "Toy Story 3" left off; it'll go in a new direction.
Lasseter said,
It's a love story with Woody and — and this is news — Bo Peep... At Pixar and at Disney, we only make sequels if we come up with a story that's as good or better than the original. That's our rule. We don't do things just to print money.
Whether or not this is truly the case, Disney/Pixar can have all of my money if they keep bringing ~*aLL tHe fEeLs*~ with each new "Toy Story" film.
Citations: Toy Story 4 Will Be A Woody And Bo Peep Love Story (ComicBook)