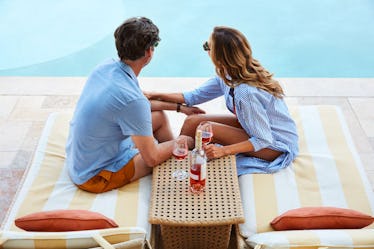 7 Women Reveal What They Were Really Thinking The First Time They Traveled With Their SO
Traveling is always better with a buddy. Together, you wheel your suitcases through the airport and help each other with any last-minute nerves that come around at the gate. You have someone to share your excitement with — a person who understands your love for planes, or lack thereof. Let's be honest: Some of those long flights you need a friend for making conversation and watching lots of movies. But, the first time traveling with your significant other can be an entirely different ball game. These real women revealed what they were really thinking, and what they learned from the experience.
Whether it's been a year or six months with your significant other, traveling together for the first time is a huge milestone. This is your chance to learn a lot about this person, from how they act in a new environment, to how they react in stressful situations. You may notice that they have some nerves about trying new foods, or maybe their attitude is very "all-in." As much as you may plan and organize your activities, you just have to take a deep breath and make some memories with the person you love.
This is a new experience, and it can also be a beautiful one. Even if nothing goes according to plan, you'll know what to do differently next time. These seven real women revealed what actually went down the first time they traveled with their significant other. (Spoiler alert: It wasn't so bad, after all.)