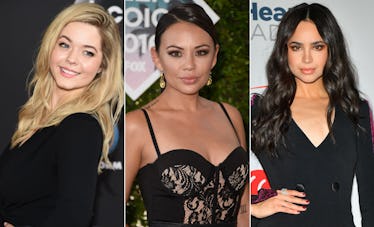 The First Photo Of 'The Perfectionists' Cast All Together Is Here, So Get Hype Everyone
Dimitrios Kambouris/Getty Images; Frazer Harrison/Getty Images; Sam Wasson/Getty Images
Got a secret, can you keep it? Well, actually, it's not really a secret, since it was posted on Instagram for the whole world to see. But the first photo of The Perfectionists cast all together is here, b*tches! So it's officially time to get hype. Or, you know, totally freaking creeped out.
"When your worst enemy dies, you take a group selfie at their funeral," the caption reads. And OMG now I just want to know who they are talking about.
But let's rewind for a sec and figure out how we got here. The next generation of Pretty Little Liars is coming to Freeform sometime in 2019, and it's based on The Perfectionists book series, which was written by PLL author Sara Shepard. My life has not been the same since the show went off the air, so I seriously cannot wait for this spinoff. Sasha Pieterse and Janel Parrish will both be reprising their roles from the original series as Alison and Mona, who relocate to the town of Beacon Heights, Oregon, where they encounter "a whole new mystery and a whole new murder," according to showrunner Marlene King.
I don't know about you guys, but I am totally here for that synopsis. Because as A herself would say: "It's more fun to think about the future than dwell on the past."
OK, I know you've been waiting, so here's the cast photo, which features both Pieterse and Parrish, along with newbies Sofia Carson as Ava, a trendsetting blogger and coder; Sydney Park as Caitlin, the perfect daughter of two perfect mothers; Eli Brown as Dylan, a cellist dedicated to his boyfriend and his music, and Graeme Thomas King as a brilliant young scientist named Jeremy.
It's so good, right?
We also got another awesome group shot on Instagram from Gossip Girl's Kelly Rutherford, who plays the town's puppet master, Claire Hotchkiss.
I'm really excited to see Rutherford tear it up, aren't you? I mean, Lily van der Woodsen as a puppet master is such a vibe. And as much as I loved watching Parrish in To All The Boys I've Loved Before, I love seeing her back with Aly so much more. So why did these two hightail it to Oregon? Your guess is as good as mine. But apparently Alison is now a faculty member at the local university, Emily is MIA, and the residents of Beacon Heights are all weirdly Type A and perfect — paging Spencer Hastings! — though because this is a Liars spinoff we're talking about here, nothing is what it seems.
"Behind every Perfectionist is a secret, a lie, and a needed alibi," Freeform wrote in the series press release, effectively confirming the fact that the show will have the same awesomely menacing catchphrases as it's dark and twisty predecessor.
Anyway, I'm so excited that the show is now officially in production. Check out this tweet that King posted on Oct. 17.
"Set life," she wrote. "#PLLThePerfectionists it's finally happening."
Looks like they are sticking with the same font, guys!
"It was a good day," King added in a follow-up tweet. "New friends. New crew. New show. Some lifelong friends I call family. #PLLThePerfectionists here we go!"
Sadly, we still don't have a release date for the series yet. So until that day comes, I'm just gonna leave this here:
Welcome to Beacon Heights, b*tches!