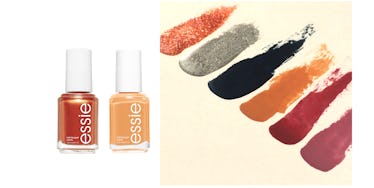 Essie's Just Dropped A NYC-Themed Fall Collection & It'll Make You Forget Summer Fast
Essie
Autumn is rapidly approaching, yet I'm wildly unprepared for the impending seasonal change. For one, I'm not ready to trade my swimsuit in for a sweater — mostly because I haven't had a chance to switch out my wardrobe (oops). In the spirit of "little by little," I'm starting small and switching my nail polish hues (e.g. borderline-obnoxious orange becomes pumpkin orange). Luckily, the Essie Fall 2018 nail polish collection is so autumnal.
As one does, I collect — no, hoard — Essie nail polish. I can't help myself: the brand manages to create and curate the most gorgeous collections season after season. The latest fall nail lineup features six unique shades, ranging from navy blue to burnt copper. While each is vastly different, every color somehow corresponds with its buddies.
The collection includes everyone's favorite fall colors (think moody mauve and burnt orange), but it doesn't stop there. Pink? No problem. Silver? Why not? Every shade is exciting.
Another reason why I'm excited by this lineup: The names of the nail polishes are inspired by New York City (aka the place I currently call home). And, in true Essie fashion, the titles are almost as fun as the colors themselves.
Take, for instance, my favorite shade, Say it Ain't Soho. It's a gorgeous, shimmery take on burnt orange. It's not sparkly, per se, but the super finely-milled pigments do give it an incredible iridescent sheen that catches the light oh-so-subtly. If you ask me, photos don't do this one justice!
Another cute one, It Takes A West Village, is a lovely dusty rose hue that — as I mentioned before — makes a case for wearing light pink in the fall. In fact, I'm almost positive that this is going to become my new fall season go-to.
An additional pink-tinged shade, Stop, Drop & Shop, reminds me a lot of Essie's super duper popular shade, Angora Cardi (aka one of the most repinned nail polish shades of fall 2016). Considering how popular Angora Cardi became (it's still one of my all-time faves!) I am willing to bet that this similar shade will do just as well.
And then there's Fall For NYC. Immediately, the muted yellow hue reminds me of the classic city taxis. (Sidenote: I wouldn't mind hailing a cab with this shade on my tips.)
And, would a NYC-themed fall collection be complete without a shade dedicated to the Empire State Building? Empire State of Mind is a steely metallic grey. It kind of reminds me of the brand's shade, Après-Chic... but with a moody twist.
Last but certainly not least: Booties on Broadway. This navy blue hue is almost as cool as seeing Hamilton (and it's a heck of a lot cheaper).
In the realm of transformational fall beauty, changing your nail color is an easy, minimal-commitment way to spruce things up. On a somewhat incidental note, you could go full Princess Diaries with your #lewk and switch up your hairdo, too! (Peep this season's hair trends for inspo, here!)
The shades are officially available on ulta.com, essie.com, and the myriad of other places you can shop Essie polish! ($9 each). Go forth and fall it up, ladies (and gents!).