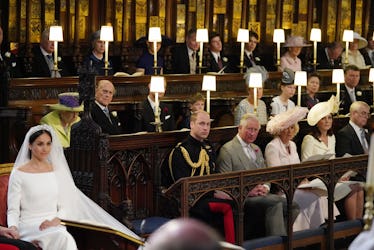 Prince Harry & Meghan Markle Left A Seat For Princess Diana At Their Wedding & I'm Sobbing
Grab 10 entire boxes of tissues, because you're going to need them once you see the way that Prince Harry, Duke of Sussex and his new bride Meghan, Duchess of Sussex, honored the late Diana, Princess of Wales, at the royal wedding today. Each member of the royal family had a chair of their own in the Quire section of St George's Chapel at Windsor Castle. But there was also an empty chair at the royal wedding, and many believe that it was left there on purpose to honor Princess Diana's memory.
While Kensington Palace has yet to confirm or deny the significance of the chair, this practice is a common way to honor late family members at weddings. Elite Daily has reached out to the palace for comment but has not heard back by the time of publication.
According to Cosmopolitan.com, the chair may very well represent a tribute to Harry's late mother. Considering the fact that every other family member has a chair, and that every inch of this wedding has been planned in minute detail, it doesn't appear to be an accident. I mean, people are clambering to get invitations to this event — it's not like the family is exactly struggling to fill these seats, you know?
Diana, as you likely know, died at age 36 on Aug. 31, 1997 in a car crash while escaping paparazzi in Paris. At the time of her death, William was 15 and Harry was 12. "She was our guardian, friend, and protector," Harry said in a speech given in honor of the 10-year anniversary of his mother's death. "She never once allowed her unfaltering love for us to go unspoken or undemonstrated. Behind the media glare, to us, two children, she was quite simply the best mother in the world."
Harry and Meghan honored Diana throughout their wedding day in other ways, too. For starters, they made sure Diana's siblings, her brother Earl Spencer and her sisters Lady Sarah McCorquodale and Lady Jane Fellowes, were in attendance. Fellowes even gave a powerful reading from the Bible during the ceremony.
Meghan's bouquet contained Forget-Me-Nots, which were Diana's favorite flower. Per royal correspondent Emily Nash,
Prince Harry handpicked several flowers yesterday from their private garden at Kensington Palace to add to the bespoke bridal bouquet designed by florist Philippa Craddock. It includes Forget-Me-Nots in memory of Diana, Princess of Wales' favourite flower.
As you may remember, Meghan's engagement ring is also a tribute to Diana. Her three-stone setting contains a center diamond from Botswana flanked by two diamonds from Diana's personal collection of jewelry. It was designed by Harry himself and crafted by Court Jewelers Cleave and Company.
If you're not already crying, this will do the trick: According to Harry, Diana and Meghan would have been incredibly tight. "They'd be thick as thieves, without question," he told the BBC in an interview following his engagement announcement. "And she would be over the moon, jumping up and down, so excited for me."
While the engagement was certainly a happy moment for Harry, he shared it was also a bittersweet one. "It is days like today when I really miss having [my mom] around and being able to share the happy news," he continued. "But with the ring and with everything else that's going on, I'm sure that she's with us. Jumping up and down somewhere else."
While it's tragic that Diana didn't live long enough to watch her sons grow to adulthood, devote themselves to philanthropy in her footsteps, find love, and begin to raise families of their own, it's touching to see how many ways the royal family finds to honor her life. Her memory will not be forgotten.