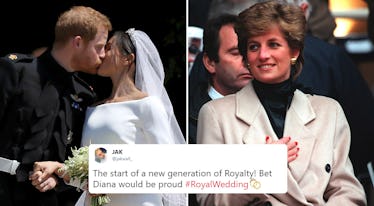 These Tweets About Princess Diana During The Royal Wedding Will Break Your Heart
Prince Harry, Duke of Sussex and Meghan Markle, Duchess of Sussex's wedding is the last major royal wedding of this generation. Though there will be others (like their cousin, Princess Eugenie of York), Prince Harry and Prince William, Duke of Cambridge were the heir and the spare, and the boys of Charles, Prince of Wales and Diana, Princess of Wales. With the last one married off, it's a time when those who remember the late Diana, Princess of Wales to mourn the passage of time. These tweets about Princess Diana and the royal wedding show that even though Princess Diana died back in 1997, the flame of her memory burns brightly today.
Diana Spencer was 19 when she was married off to Prince Charles in what was considered the wedding of the decade. (Sorry, everyone else who got married in the 1980s.) Even though their marriage didn't last the test of time, Diana remained extraordinarily popular until the day she died. (One could argue she got custody of the UK public in the divorce.)
Because her life was cut short at 37, her legacy has been the life of her boys, and both show that the memory of their mother made who they are as people. Their choices of spouses, for instance, both honor her legacy. Prince Harry especially has always been viewed as "Diana's" (Prince William looks too much like Charles, I suppose). But for whatever reason, he has been viewed as the one to carry on her work. So it's natural his wedding to Meghan Markle, in all it's unconventionality and modernizing of the monarchy, brought back memories of the late Princess Di.
It turns out the answer was: everyone. Everyone was thinking of Di.
And Harry made sure his mother was honored. For instance, he had his aunt, Diana's sister Lady Jane Fellowes, do the only reading from a family member.
He also personally added touches from his mother to Meghan's bouquet.
Those sitting at home saw signs of Diana's presence everywhere. This one was a personal favorite.
And there was the presence of her grandchildren too, and Charlotte's antics, that she probably would have enjoyed.
Though it was really the driving home that William and Harry were men now, married with families of their own, that drove home that Diana didn't get to live to see this.
Some compared then to now in pictures, and the change was striking.
For the fashionistas, the loss of Di at events like these was the loss of the one who would have stolen all the headlines.
But it was Meghan and Harry's choices at this wedding where the influence seemed to really shine through more than anything. It's a tragedy she didn't live to sit through the day's proceedings. She probably wouldn't have been able to suppress a smile.
(I mean, seriously, did you see the faces of the royals, especially the secondary royals when the Bishop was bringing church to the the Chapel? Diana would have laughed and laughed.)
But for others, this was just a day to remember Diana, and be grateful for all she did when she was alive.
For those who Diana meant something, the grief was overwhelming at times.
It was also a time to remember the day she died.
(For the record, I am old enough to remember exactly where I was the Sunday morning when they announced she'd been killed overnight in a car crash. It's one of "those moments" for people of a certain age.)
It was a beautiful wedding and a lovely ceremony. If Diana is up there looking down, she is indeed smiling.