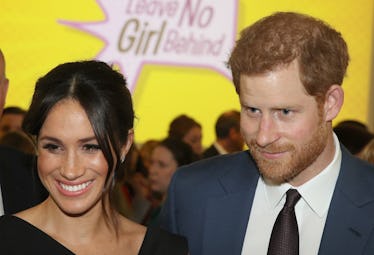 Meghan & Harry Invited These 2 Important Women To Their Wedding & I'm Sobbing
Chris Jackson/Getty Images Entertainment/Getty Images
Prince Harry and Meghan Markle's wedding is almost here, and it seems like almost every day we are getting amazing new details about the big event. It's like the best lead-up to a wedding ceremony EVER. Did you know that all three of Princess Diana's siblings will be present for the May 19 nuptials? Did you even know Princess Di had three siblings? Yeah, me neither. But the couple invited them all to the wedding, which is such an amazing tribute to Harry's late mother. Her brother, Earl Spencer, will be there. But who are Princess Diana's sisters, because I really need to know!
Their names are Lady Sarah McCorquodale and Lady Jane Fellowes, and on May 4, Kensington Palace released a statement with some details about how the two sisters will be involved in the ceremony. "In addition to having the support of The Queen, his father The Prince of Wales, and his brother Prince William as Best Man, Prince Harry is also keen to involve his mother's family in his wedding," the statement read. "All three siblings of Diana, Princess of Wales will be in attendance and Lady Jane Fellowes will give the reading. Prince Harry and Ms. Markle both feel honoured that Lady Jane will be representing her family and helping to celebrate the memory of the late Princess on the wedding day."
So sweet!
According to Town & Country, Harry has remained close with both of his aunts, and has even done some charity work with Fellowes. Meanwhile, McCorquodale, who is the oldest Spencer sibling, has been spotted at charity events with Harry's brother, Prince William. She was also there when William married Kate Middleton in 2011.
"Harry has always kept in touch with the Spencers and they have all received invitations," explained a source. "[He] gets on well with his aunts and uncle and they have met Meghan."
Here's a picture of McCorquodale and Fellowes (on the far left) at the opening Princess Diana's Memorial Fountain in July 2004.
And now for a bit of background about these two lovely ladies. According to Hello!, Fellowes was born Cynthia Jane Spencer. She was educated at West Heath boarding school like her sisters, then later married her late husband Robert Fellowes — private secretary to the Queen from 1990 to 1999 — when she was 21. The wedding took place in 1978 at Westminster Abbey, and Diana was one of bridesmaids. In 1999, when the Queen gave Robert the title of Baron, Jane officially became a Baroness. And yes, I'm all kinds of jelly of that title.
Fellowes is the youngest of Diana's sisters, and according to Town & Country, she was the one who first told her brother and sister that Diana had died in a car crash on that tragic night back in 1997. She was also reportedly with Prince Charles — along with McCorquodale — when he brought Diana's body back from Paris, and she later read a poem by Henry Van Dyke Jr. at the funeral. But she has pretty much stayed out of the public eye ever since.
As for McCorquodale, she is reportedly the one responsible for introducing Diana to Charles. And get this — she dated him first back in 1977! Luckily, there was no big scandal, and McCorquodale — who got married one year before her sister in 1980 to Neil McCorquodale and went on to have five children with him — reportedly totally approved of her sister's relationship.
Considering how close Diana was with Harry, I think it's incredibly touching that he and Markle have chosen to include her family members in their special day.
And while I'm sure the occasion will be bittersweet since it will be marked by Diana's absence, I hope having her brother and sisters there will give Harry the comfort of knowing his mom is there with him somewhere, too, watching over the wedding ceremony and smiling.