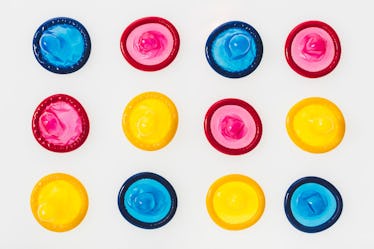 This Celebrity-Approved Condom Helps Prevent HIV While Raising Money To Save Lives
What if I told you that using a particular condom could help save lives? It may sound too good to be true, but the Durex Red Condom protects against HIV while also raising money to fight the disease — and not only that, but buyers can fight both HIV and AIDS just by practicing safe sex, thanks to a partnership between Durex and the nonprofit (RED). Talk about a win-win.
Buying Durex's new special-edition RED condoms can have a positive impact in a number of ways. The condom maker has committed to donating $5 million to The Global Fund through 2020 to fight HIV and AIDS in Africa (BTW — The Bill and Melinda Gates Foundation have agreed to match that donation). Plus, a percentage of proceeds from sales of the RED condom will be donated directly to a program in South Africa called Keeping Girls in School. For every 42-count pack and 12-count pack of RED condoms sold, $0.84 and $0.35 will be donated to the organization, respectively. Keeping Girls in School seeks to decrease unwanted pregnancies and HIV infections in young women by making sexual health and reproductive serves more accessible. The ultimate goal is to enable those women to continue pursuing an education.
HIV/AIDS continues to be a major public health challenge across the globe. The Centers for Disease Control and Prevention estimates that more than 1.2 million Americans 13 years and older are living with HIV. The virus has taken more than 35 million lives thus far, and 940,000 people died from HIV-related causes in 2017 alone. And a whopping 1.8 million new people were infected with HIV in 2017. It's important to note that HIV is not the same as AIDS, contrary to a common misconception, and it's possible to have HIV without having AIDS. While there is no cure for HIV at this time, millions of people are still able to live healthily with the virus. The only way to know your status is to get tested, and the CDC recommends that anyone between the ages of 13 and 64 gets tested at least once for HIV, and anyone who has unsafe sex gets tested at least once a year. One of the main behaviors that puts people at a greater risk of contracting HIV is having unprotected sex.
"Give a F*ck" is the name of the marketing campaign Durex has devised around the release of these groundbreaking condoms. Already, a slew of celebs have hopped on board, including Swedish pop singer Zara Larsson, actors Thandie Newton and Christian Navarro, Broadway star Javier Muñoz, YouTube influencer Tyler Oakley, and singer, actor, and rapper Jacob Latimore. The "Give A F*ck" campaign is running in more than 15 countries.
Starting today, you can pick up a box of Durex RED condoms on Amazon or other retailers, including Target. The extra-sensitive condoms are made of ultra-fine extra lubricated latex and designed to mimic the feeling of skin-on-skin contact. It goes without saying that condoms have played a starring role in practicing safe sex, as well as protecting against certain STDs, such as gonorrhea and chlamydia. But until now, there's never been a condom that can both help protect you and your partner from HIV (along with some other STIs) while also raising funds to help fight this disease.
From now until World AIDS Day on December 1, Durex is encouraging people who purchase RED condoms to show their support on social media by using the hashtag #HaveSexSaveLives. Part pleasure, part philanthropy. Now that's a hashtag we can get behind.