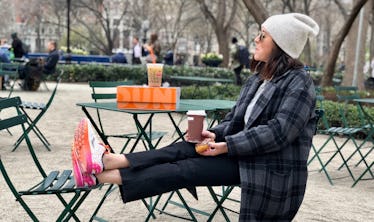 I Wore The Dunkin' Donuts X Saucony Sneakers & Now I'm Actually Running On Dunkin'
Theresa Massony
I'm not planning on running a marathon anytime soon, but I still enjoy a nice set of sneakers. Supportive shoes come in handy when pounding the New York City pavement, and my latest pair is the sweetest set yet. The Dunkin' Donuts Saucony sneakers are a limited-edition design from the two brands in honor of the Boston Marathon... but it turns out they work well for walking, too.
When I first heard about the Saucony x Dunkin' Kinvara 9 shoes, I thought, "Yum, doughnuts." I also wondered what the connection is between such a sweet treat and a 26.2 mile race. Turns out, everyone loves Dunkin'! Runners and couch-sitters (aka: me) alike, everyone deserves to treat yo'self from time to time. And leave it to the Bostonians to be loyal to one of America's favorite coffee and doughnut shops. It's Dunkin' Donut's and Saucony's hometown, after all.
Saucony knows how much everyone (even runners) loves coffee and doughnuts, and their team effort with Dunkin' has formed a Massachusetts-based design powerhouse. The shoes have the traditional Saucony Kinvara 9 EVERUN sole for cushion and stabilization, and they're sprinkled with all things DD, from the inner sole to the colorful laces. Here's what they look like IRL.
Please relive my first peak at the sneaks; it was a big moment.
Praise be. The holy grail of sneakers. A coffee bean-printed river logo, pink frosted doughnuts at the heels, and sprinkles galore.
I was as happy as Homer Simpson eating his own doughnut-shaped head when I found out that I not only got to hold these shoes in the palms of my doughnut-craving hands, but also wear them!
Livin' the dream, Homer, livin' the dream.
The shoes are sold with black laces, but also come with a set of pink and orange laces, so you can swap out the colors for a more personalized look. I chose to do one of the orange laces and the pink — an ode to the Dunkin' Donuts colors seen throughout the rest of the shoe.
The reflective stripe down each heel reminds everyone in your tracks that "America Runs On Dunkin'."
Obviously, I had to get some Dunkin' Donuts coffee while wearing my Saucony x Dunkin' Kinvara 9 sneakers, because how could I not? I couldn't choose between iced and hot, though. It's a lifelong dilemma. But what's better than one coffee? Two coffees.
And what's a Dunkin' Donuts coffee without a doughnut on the side? Chocolate frosted with sprinkles (times two), naturally. What would have no doubt already been an enjoyable midday snack of coffee and doughnuts was made all the more delicious by my coordinated footwear. Between these Saucony x Dunkin' Kinvara 9 shoes and the Pizza Hut Pie Tops II, I may never have a meal without matching shoes ever again.
Deep-fried, chocolate frosted snack and caffeine boost aside, the shoes are incredibly comfortable, with just the right amount of colorful flair. Oh, and that box on the table? It's not full of doughnuts. (Although, that would be nice, too.) It's the Dunkin' Donuts-themed box that these Saucony beauties come in.
The limited-edition Saucony x Dunkin' Kinvara 9 were originally sold for $110 (saucony.com), but they're unfortunately now sold out. But, you never know if they'll come back. Sometimes, dreams do come true! In the meantime, keep an eye out for any of these pink-and-orange stunners hitting the pavement on April 16, 2018, at the Boston Marathon!
Some people run on Dunkin, but I'm proud to say that I walk on it — and these shoes were made for doing just that.