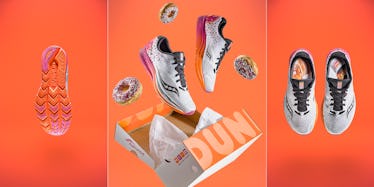 The Dunkin Donuts Sneakers Sold Out On The First Day, But There's Still A Way To Snag 'Em
Saucony x Dunkin Donuts
The relationship between Bostonites and their coffee is the ultimate love letter. When I found out that lifestyle running brand Saucony and Dunkin Donuts were teaming up to release a shoe, I wasn't surprised, but how much do Dunkin' Donuts Saucony sneakers cost? The answer is, well, a little more than a vanilla sprinkle donut.
Gone are the days of wearing your heart on your sleeve, now, you can declare your love practically anywhere on your body. Over the past couple of months, I've seen many traditional brands venture into launching exclusive merchandise or apparel. Dunkin' Donuts is following suit, launching a running sneaker just in time for the Boston Marathon. New England is known for their love of Dunkin' Donuts (or Dunks) so partnering up with Saucony to create a limited-edition Kinvara shoe was a match made in (donut) heaven. The Waltham, Massachusetts brand has been around for over 120 years, but the first Kinvara shoe was created only nine years ago. Due to its unique design, the Kinvara 9 is one of the best selling shoes today.
I'm obsessed with the features of this pretty pair. The shoes are designed with a white-based knitted mesh upper half, which looks like the Dunkin' Donuts box. The heel is pink, to resemble a strawberry-frosted donut, and it's surrounded by orange, magenta, and chocolate-colored sprinkles. Subtle touches include a coffee-bean print and sockliners with Dunkin' Donuts hot and iced coffee. Although this shoe was designed to look sweet AF, it's still super functional.
Kinvara sneakers were designed to be a lightweight running shoe. The minimal upper design allows the shoe to have a lightweight fit, and the full EVERUNTM topsole was constructed for an enhanced energy return. When you run, you're literally "hitting the pavement," and that constant slamming on the ground can affect everything from your posture to shin splints. The continuous cushioning on the shoe will make running that much more comfortable (whether you're running to grab your morning coffee, or in an actual race is up to you). No judgment here, I've been known to sprint for my morning shot of caffeine.
When you think of running, you may not automatically think of donut as an association. But exercise-tracking app Strava has determined that coffee is the number one food or beverage mentioned by runners, and donuts are number six. According to Justin Unger, director of strategic partnerships at Dunkin' Brands, coffee keeps Bostonians running.
We've been keeping America running on Dunkin' for decades, and we're thrilled to partner with Saucony to literally keep Bostonians running this marathon season."
Although coffee and donuts are a staple of this collaboration, the shoe was also designed to celebrate the people of Boston. According to an interview with Adweek, Saucony CMO Amanda Reiss stated that the partnership was a way to honor Boston's rich history.
As we celebrate Saucony's 120th anniversary, we're proud to honor our hometown marathon and Boston's rich running heritage in partnership with Dunkin' Donuts, a brand known for 'keeping America running.' The Saucony X Dunkin' Kinvara 9 celebrates the joy, determination and delicious obsession of runners everywhere with a sense of playfulness that's true to the heart and soul of both brands.
On April 3, the Saucony x Dunkin' Kinvara 9 will be available exclusively at Marathon Sports in store, and on their website. If you happen to live in the New England area, you can join the Saucony team on April 3 for the Saucony Donut Crawl & Launch Party at their Boylston St. location to celebrate the official launch!
Priced at a reasonable $110, the Saucony X Dunkin' Kinvara 9 ($110, saucony.com) sold out on March 27 when they went out for pre-order, but that doesn't mean they won't replenish the stock.
Either 2,000 people are extreme Dunks lovers, or they're wise for grabbing these shoes immediately. I would go with a combination of both, because this is a great price for a quality pair of running shoes, especially if they'll help prevent future injuries.
This year the Boston Marathon will be held on April 16, so whether you're participating in the race, grabbing an ice coffee, or want to rock a sick pair of sneakers, just don't forget to hashtag your Instagram post #America RunsOnDunkin.