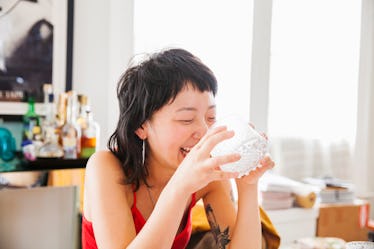 Here's The Drunk Text You Send Your Ex, Based On Your Zodiac Sign
Stephen Zeigler/DigitalVision/Getty Images
After The Longest Week Ever, you put on your favorite dress, your dancing shoes, and head out to paint the town with your besties. There was drama at work. Your little sister was acting so annoying. And everyone across every dating app was sending you the most boring messages. As you barhop with your girls, you pass the little Thai place that and your old boo went on your first date. And before you can think twice, you've already drafted a message. The drunk text you send your ex can depend on many things: how the relationship ended, how often you think of them, and, most importantly, your zodiac sign. From a fiery Aries who wants answers now to a dreamy Pisces who never let go, astrology may inspire your inbox in all sorts of ways.
Though sometimes drunk texts to exes happen (and trust me, I've been there), it's important to recognize your boundaries as you and your ex move on. If you don't want them reaching out to you or they've asked you for some space, it's imperative to honor their comfort levels and to act accordingly.
Of course, if you feel like a friendly message is in order, here's some astrological inspiration.