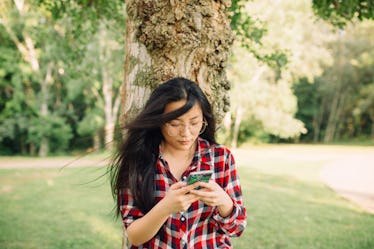 If You Can't Stop Looking At Your Ex's Social Media, You're Likely One These 4 Zodiac Signs
Have you ever been tempted to creep on an ex's social media? Hey, no judgment here, we've all been there. It starts with your ex suddenly popping into your mind, and before you know it, you're scroll, scroll, scrolling through their Insta — and likely regretting every minute of it. This is especially true if your breakup was a hard one, whether that was because you really cared about your ex, or because the breakup left you with a ton of unanswered questions. While every sign has moments like these, there are some zodiac signs who cant stop social media stalking even when they know they really should. Let's be honest: Have you ever spent time looking through your ex's social media and thought, "Wow I am so glad I did that. I feel so much better now!"?
Never. That never happens. In fact, you're much more likely to wish you could unsee something, like if they posted a photo with someone new. Seeing them living their lives post-you can bring up all kinds of unwanted, unresolved feelings. But while cyberstalking is a bummer, sometimes it's just too difficult to resist — particularly if you happen to be one of the signs who often struggles with letting a relationship go in general, or that can't really move on without "closure." These signs tend to invest big chunks of their hearts into their relationships, and their curiosities to creep on the 'gram are just too strong to control.