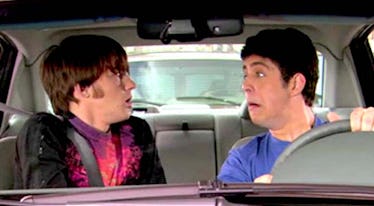 The 'Drake & Josh' House Is Being Torn Down & Josh Peck's Reaction Is Priceless
Nickelodeon
It looks like the Parker-Nichols family is out on the streets. The house at the center of the beloved 2004 Nickelodeon comedy series Drake & Josh is being torn down, and it probably feels like a stab in the childhood to all the fans who grew up watching the hijinks that went on in that home. Josh Peck and Drake Bell shared their reactions to the Drake & Josh house being torn down, and they could not be more different, or more hilarious for fans of the show!
The five-bedroom home located at 3878 Alonzo Avenue in Encino, California is now listed as a historical landmark on Google, and this is actually not the first time that the residence has been in the new recently. Last December, TMZ reported that the house was up for sale, listed for a whopping $1.85 million.
But now it looks like the residence is not fit for anyone to live in. Drake Bell shared a photo of his old TV home a couple of weeks ago, revealing this is was in severe disarray. Many of its windows had been broken, its roofs had been stripped, and the whole building was surrounded by a chain-link fence. Bell shared his sadness by captioning the photo "Nooooooo!!!!!!"
Over the weekend, Josh Peck got the sad news about his old Drake & Josh home as well, except he had a bit of a different reaction from his Nickelodeon brother. Peck's friend David Dobrik drove Peck back to the now-dilapidated house and filmed his reaction.
Initially, Josh Peck jumped right into character, stammering "Wh-wh-why would they do this?" and quickly accusing Drake & Josh's resident nuisance Megan. But then he laughs the whole situation off, saying that the house is in his past:
It's like a hundred pounds ago, tear that sh— down. Get over it!
Check out the clip of Josh Peck reacting to the Drake & Josh house being torn down in the video below, beginning at the 2:40 mark.
While the house definitely looks like it is in bad shape, it's not clear if it is actually being torn down as the YouTube video suggests, or just being remodeled. Since the house was on sale just a few months ago, it seems likely that it found a buyer who is making some big changes to the iconic abode. Then again, maybe the realtor couldn't find a big enough Drake & Josh fan willing to lay down almost $2 million on the home and now it has to be torn down.
The house was, of course, only used for exterior shots on Drake & Josh. The teen sitcom aired on Nickelodeon for four seasons from 2004 to 2007, including a pair of TV movies that premiered on the network in 2006 and 2008. Although it has been over a decade since the show ended, it remains a millennial classic, and it has been the subject of tons of reboot or reunion rumors over the last few years.
As the eponymous stars of the show, Drake Bell and Josh Peck have fanned the flames of possible bringing the series back a few times in the past, but all hope seemed lost after Bell vented about not being invited to Peck's wedding last year. However, Bell has since said that he and Peck have worked past that drama and have never stopped being brothers, adding in that he is always down for a Drake & Josh reboot whenever Peck is.
Well, if that Drake & Josh reboot does happen, I hope the Nickelodeon production team saved some exterior shots of the family's house, since it might not be around much longer.