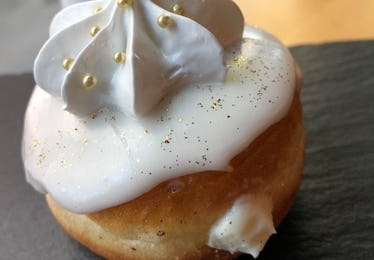 Pinot Grigio-Flavored Doughnuts Finally Exist, So Cheers To Boozy Baked Goods
The Doughnut Project
After 23 years of life, I have yet to find a doughnut I don't like. In fact, choosing a favorite would be nearly impossible. Between vanilla-glazed, jelly-filled, Boston cream, chocolate-glazed, carrot cake, and maple-glazed, I really do love them all. However, I haven't tried a boozy doughnut yet — and if you know me at all, you know for a fact that I'd probably love it. It turns out The Doughnut Project's new Pinot Grigio Doughnut is going to be available super soon, and I'm beyond excited. TBH, it's probably going to become a staple of my diet.
The Cavit Pinot Grigio Doughnut is the glorious result of The Doughnut Project's collaboration with popular wine brand, Cavit, according to Leslie Polizzotto, co-owner of The Doughnut Project in New York City. Each doughnut is delicately baked with a rich cheesecake filling and is slathered in a Cavit Pinot Grigio glaze. Then, the doughnut is topped with a Pinot Grigio meringue and — wait for it — gold "bling." Honestly, if that isn't one of the most mind-blowing things you've ever heard in your life, I'd like to see what kinds of doughnuts you've been eating all these years. I need to get my hands on one of these right now.
Despite the fact that this doughnut is fancier than I'll ever be, one will only set you back a mere $4.75, according to Cosmopolitan. So, grabbing one (or like, nine) while still you can is absolutely vital. They'll be available at The Doughnut Project in New York's West Village between Monday, May 14, and Sunday, May 20. I don't want to get your hopes up, but apparently, it's possible the bakery might extend its availability if the doughnut is popular enough. My fingers are crossed.
The release of this highly anticipated Pinot Grigio Doughnut is in celebration of National Pinot Grigio Day on May 17, according to Cosmopolitan. Like myself, The Doughnut Project will be celebrating this glorious holiday all week long. Respect.
You might recognize The Doughnut Project, and there's a reason for that. It turns out that it actually released an equally elegant Prosecco Doughnut in August 2017. In case you didn't get to try it, the Prosecco Doughnut was made in collaboration with Ruffino Wines in honor of National Prosecco Day. Sadly, I didn't get a chance to try it, but the photos look spectacular (and apparently, the line to get one extended way out the door).
If you happen to be seeking out additional wine-flavored treats, give Rose Gold Rosé Marshmallows a shot. Each 'mallow is square, glittery, and a light hue of rose gold. Seriously, they're the cutest. Apparently, you can actually taste the distinct flavors of rosé in the marshmallows. Each 'mallow is infused with Graham Beck Brut Rosé, and they're said to have quite distinct flavors of cherry, raspberry, and flowers. They're the pink, glittery marshmallows of my dreams, and I honestly wish I had a box of them in front of me right now.
As a diehard doughnut fan and a lover of wine-infused anything, I'm pretty positive that The Doughnut Project's Cavit Pinot Grigio Doughnut would be a winner in my book. If the gold bling topping and cheesecake filling doesn't get you going, then I seriously don't know what will. If you don't make it to New York City in time for the Pinot Grigio Doughnut, my fingers are crossed for its availability to get a massive extension. Or, I really just hope that The Doughnut Project will keep creating delightfully boozy doughnuts. Either way works for me.