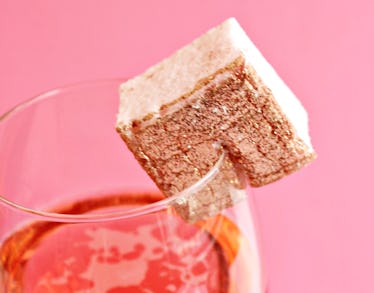 Glittery Rosé-Flavored Marshmallows Exist & They're Almost Too Pretty To Eat
If you know anything about me, then you probably know that I really, really love rosé. If you think about it, rosé is the ideal refreshing beverage. It's absolutely perfect for any summer day, every special occasion, and for your typical night out. Honestly, drinking rosé is a lifestyle choice, and I wouldn't have it any other way, thank you very much. If you love the pink drink too, you'll be happy to know that Rose Gold Rosé Marshmallows by XO Marshmallow are here just in time for summer, and I am beyond obsessed.
Imagine you're embarking on the camping trip of a lifetime. After a full day of hiking, you pitch your tent, start a fire, pour yourself (maybe a few) glasses of rosé, and prepare for the highlight of the evening: s'mores. Not only will Rose Gold Rosé Marshmallows lighten up your pack, combining the taste of rosé and 'mallows into one light-as-a-feather square package, but they'll also glam up those dessert sammies in a heartbeat. And honestly, there's nothing wrong with bringing a little extra shine to the outdoors.
Rose Gold Rosé Marshmallows truly sound like the millennial dream (as I, myself, am currently in heaven). According to the description on XO Marshmallow's website, each rose gold rosé 'mallow is a glittery hue of rose gold, and, most importantly, they taste like rosé. Per Bustle, each 'mallow is infused with Graham Beck Brut Rosé. With very distinct hints of cherry and raspberry, they're everything I didn't realize I needed... until now, of course.
Unfortunately, these divine handmade creations are not yet available for purchase. According to Bustle, they're currently available for preorder on the XO Marshmallow website, where you can reserve your pack of 12 for $15.95. You won't officially be able to buy them until April 27. Womp, womp. If you happen to be in the windy city (aka Chicago), definitely make your way to XO Marshmallow Cafe, where you can get them when they're released. It might be worth a trip to the Midwest, right? Maybe not. Who am I kidding? It feels so right.
XO Marshmallow's website suggests buying Rose Gold Rosé Marshmallows for fancy occasions, such as parties or weddings. But, quite frankly, I know I'll just be eating them on my own, stuffing my face one after another as I relax in the bathtub and savor the moment. Or, I'll have them float in my wine as delicious little decorations. Let's be real, I'm gonna eat them whenever I'm feeling fancy, and I don't need a big party for that.
If you end up finding an obsession within the realm of rosé-flavored candy, then I highly recommend seeking out rosé-flavored cotton candy. Yeah, that exists, and it sounds absolutely phenomenal. Target once sold both rosé and champagne-flavored cotton candy for a limited time (for Valentine's Day) earlier this year, and it sounded like the ideal gift for literally anyone. One tub only costed you a cheap $2.99, and if you missed out on the deal, I'm sorry. Seriously, rosé cotton candy and a mushy card are really all I need in life, so @Target: Please bring it back to your shelves. OK, thank you, I really appreciate it.
As your typical run-of-the-mill millennial gal, there's pretty much no way that I could manage to turn down something that's rose gold, glittery, and rosé flavored. To do so would be simply ridiculous, so I'm really looking forward to indulging in Rose Gold Rosé Marshmallows this spring. In spite of what Beyoncé might think, I am so ready for this jelly. You can place your preorder on XO Marshmallow's website.