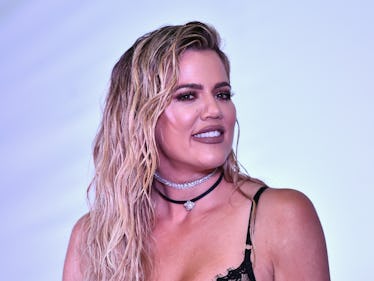 This Detail In Khloé Kardashian's Baby Announcement Photo Seems Really Out Of Place
Alberto E. Rodriguez/Getty Images Entertainment/Getty Images
Khloé Kardashian's baby announcement Instagram is already iconic. Her daughter's name is so precious and sweet. And her baby girl's room is decorated in a way that every young girl has probably dreamed of at some point in her life. But if you noticed the Donald book in Khloe Kardashian's baby announcement, you might be shocked to learn that it's not a baby book at all.
On April 16, Kardashian shared an adorable post on Instagram to reveal her newborn daughter's name: True Thompson. She captioned the photo,
Our little girl, True Thompson, has completely stolen our hearts and we are overwhelmed with LOVE. Such a blessing to welcome this angel into the family! Mommy and Daddy loooooove you True!
The post is so special because it gives us our first peek at (what seems to be) a party for the newest arrival to the Kardashian-Jenner clan, which is filled with more than a dozen pink balloons, gorgeous flower arrangements, a fuzzy stuffed animal and cozy furnishings. But some of us bookworms couldn't help but notice a small stack of books sitting in the corner of the room — one of which is called Donald. But if the connotations of the name have you worried, well, don't. Contrary to what some of us (definitely me) may have guessed at first glance, the book isn't tied to President Donald Trump at all.
Donald is about Donald Robertson, who is hailed as the fashion world's favorite artist. According to Vogue, he's drawn multiple industry figures in his illustrations, including Anna Wintour and Karl Lagerfeld, and has been endorsed by major celebrities such as Lupita Nyong'o and Beyoncé. Donald is essentially a reflection of his signature quirky illustrations, but also includes quotes and tips — from fashion designers and industry influencers — for aspiring illustrators. Though it's not the conventional baby book, you can never start a kid off too early right?
OK, OK, that may be a stretch considering True is less than a week old. According to TMZ, Kardashian gave birth to her and her beau Tristan Thompson's first child in the early hours of April 12.
She expressed her excitement over True's arrival just days before, on March 28, in a post that she shared to her app. She wrote,
I can't believe my little girl will be here soon! These past nine months have flown by, and I've loved every minute of it. So far my pregnancy has been super easy and I'm so beyond thankful for that. After my first trimester everything has been a breeze.
Her pregnancy definitely flew by (IMO), but then again, she didn't share it with the world until December 2017. In the most heartwarming post that I've personally ever seen, Kardashian shared a photo of her blossoming pregnant belly with Thompson's hands wrapped around it to announce the news. She captioned the pic,
My greatest dream realized! We are having a baby! I had been waiting and wondering but God had a plan all along. He knew what He was doing. I simply had to trust in Him and be patient. I still at times can't believe that our love created life! Tristan, thank you for loving me the way that you do! Thank you for treating me like a Queen! Thank you for making me feel beautiful at all stages! Tristan, most of all, Thank you for making me a MOMMY!!! You have made this experience even more magical than I could have envisioned! I will never forget how wonderful you've been to me during this time! Thank you for making me so happy my love!
She's gonna be such an amazing mom — I can feel it. And, though Donald may be a bit out of True's league at this age, I'm sure she has The Cat in the Hat or One Fish, Two Fish, Red Fish, Blue Fish lying around somewhere, too.