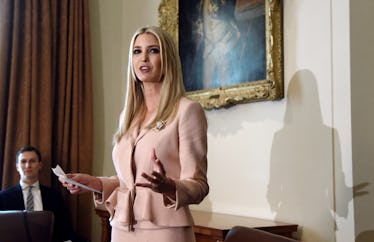 The DNC Called Ivanka Trump "A Hypocrite" & It's Pretty Major
Pool/Getty Images News/Getty Images
While President Donald Trump is bearing the brunt of criticism following his press conference in Helsinki this week, the first daughter isn't immune to her own criticism. Ivanka Trump has come under fresh attack from the left following her push for Trump's policy agenda. The main critic came from the Democratic National Committee (DNC), which on Thursday, July 19 released a statement calling the president's daughter a "hypocrite." Citing numerous seeming contradictions between policy and practice, the DNC's statement about Ivanka Trump's "hypocrisy" didn't sugarcoat anything.
In the statement, which was obtained by Elite Daily, DNC spokesperson Elizabeth Renda said,
While Ivanka Trump is busy writing op-eds calling on American companies to 'create more jobs, strengthen our economy and restore hopeful futures to countless families,' workers in countries like Indonesia, China, Vietnam, Bangladesh, and India are busy, too — working in conditions below industry standards to manufacture clothing and shoes for the first daughter's namesake brand.
Trump was touting "made-in-America" policy despite the fact that her own clothing brand outsources its manufacturing overseas. That Trump's products aren't actually made in the U.S. has been known for a while. Still, it was Ivanka who this week preached an "America First" approach to production.
"As part of the President's push to get more people buying and hiring American," the White House tweeted Wednesday, "@IvankaTrump and other Administration leaders are making workforce training and development a big priority."
The DNC referred to the first daughter's "faux feminism" as it chastised Trump for promoting the rights for working women while her same company has been found to hinder female employees. Renda said in the statement,
The first daughter and special adviser to the president loves to portray herself as a champion for working women, but one look inside the overseas factories where she chooses to manufacture her products proves that she is anything but. The women manufacturing 'Ivanka Trump' clothes and shoes are paid so little that many of them are forced to live without their own children.
Last week, the first daughter participated in a Senate Finance Committee hearing regarding paid family leave.
Trump has repeatedly come under fire since a 2017 report in The Washington Post alleged that contract companies that made the Ivanka Trump clothing line included questionable work practices overseas. In particular, the exposé found, the working conditions made it so that mothers were not able to properly care for their children. (Abigail Klem, president of the Ivanka brand, said at the time that "branded products have not been produced at the factory in question since March [several months before WaPo's report], the integrity of our supply chain is a top priority and we take all allegations very seriously.")
That report was also the basis for major criticism when Trump attended the women-themed Global Entrepreneurship Summit in India last year, where beggars were reportedly removed from the streets ahead of her visit.
As part of the fallout at the time, the clothing line was dropped from numerous department stores, including Nordstrom and Neiman Marcus, as the #GrabYourWallet movement encouraged shoppers to boycott any stores carrying Trump family products.
The apparent repercussions of Ivanka's foray into politics are still being felt. On July 13, 2018, Canada's oldest department store, Hudson Bay, announced it would be discontinuing its stock of the Ivanka apparel, citing "performance" as the reason it would no longer carry her brand.
Despite the image of being a champion for women in the workplace (see: her book Women Who Work), Trump also endured backlash from the DNC and beyond for her failure to deliver the goods in a substantive way.
More broadly, many have criticized the first daughter's brand-ready feminist rhetoric for hypocrisy given her father's administrative policies, which have been generally unfavorable to women. The Center for American Progress, for instance, gave her failing marks across the board for her performance thus far on women's rights.
Among many possible examples, in October 2017, the administration moved to roll back the contraceptive coverage mandate under the Affordable Care Act (ACA), also known as Obamacare, which allowed millions of American women access to co-pay-free reproductive health care. The president in his tenure has also nominated new Supreme Court justices expected to oppose Roe v. Wade, rolled back a policy aimed at equal pay for women, and supported his administration's zero-tolerance policy on immigration, which caused the separation of thousands of children from their mothers.