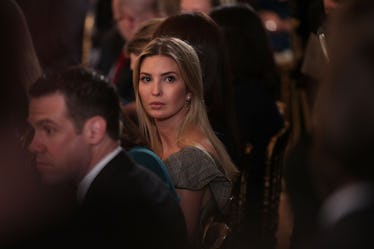 India Is Preparing For Ivanka Trump's Visit In A Controversial Way
Alex Wong/Getty Images News/Getty Images
In preparation for the first daughter's trip to the south Indian city of Hyderabad at the end of November, city officials are cracking down. The Indian Express reports that India is banning beggars for Ivanka Trump's upcoming visit in an effort to boost its image. A total of 6,000 people will be pulled off the streets ahead of the Global Entrepreneurship Summit, held at Hitec City Nov. 28 through 30. Trump will be leading an American delegation to the summit in the city later this month. The event, an annual gathering now in its eighth year, is themed "Women First, Prosperity for All."
Hyderabad officials have been busy making the city look good for its high-profile international crowd. On Wednesday, Nov. 8, some 400 people of the city's homeless and poor population had already been relocated to a nearby prison rehabilitation center, according to the Express, after an order banning begging was set in place on Tuesday. An unnamed official told the newspaper, "Some beggars argued that we were taking their freedom to live anywhere they want but we told them it was for their own good because they are going to the rehab centre where they will be taken care of." The order will reportedly stay in place until the new year.
The city's police commissioner, quoted by the Express, called the "indecent manner" of begging "dangerous to the safety of the vehicular traffic and public in general," and called it a source of "annoyance and awkwardness," in their reasoning for the ban. The article did not include any mention of the upcoming summit in the commissioner's explanation.
Per India Live Today, the country's beggar population was about 370,000 as of 2011 census data. The Post reports that Hyderabad has about 6,000 people who beg on the street. The founder of a homeless charity in Hyderabad quoted in the article, George Rakesh Babu said that, at a cap of 1,000, "the prison capacity in Hyderabad is not enough to look after all these people."
Reactions on social media to the Hyderabad clear-out were wide ranging, with many condemning it, and some apparently in favor.
One user, who appears to be a local, was all for the improvements.
The same preparation was done in Hyderabad prior to the arrival of Bill Clinton in 2000.
That the country's poor have been pulled out of view of the first daughter will likely further an already controversial discussion around her own wealth. Trump, who owns a self-named clothing brand, came under fire in June when reports surfaced claiming that her factory workers in China were being abused. A July 2017 article in the Washington Post laid out the alleged conditions for various factory workers overseas who labor — often underpaid and overworked — to produce Ivanka Trump's clothing. Among the countries where laborers make her clothes? India. Abigail Klem, president of the Ivanka brand, said in a statement in June that "branded products have not been produced at the factory in question since March, the integrity of our supply chain is a top priority and we take all allegations very seriously."
While Trump has made it a staple of her platform to empower working women, financially and otherwise, her clothing line hasn't appeared to live up to the standard. "My monthly salary is not enough for everyday expenses, also not for the future," a young woman in Indonesia, who said she used to sew Trump's dresses, told the Post. As outlined in the Huffington Post, some female employees were reportedly so poor they were unable to live with their children.
Just exactly how Trump will use her platform later this month to address helping women achieve financial independence and empower them remains to be seen. And I for one sincerely hope she can make meaningful change where it is so needed. Still, it would be nice to reconcile the fact that many of the women who have aided in her own wealth are reportedly living in poverty, not unlike the people in India who have been locked up for her sake.