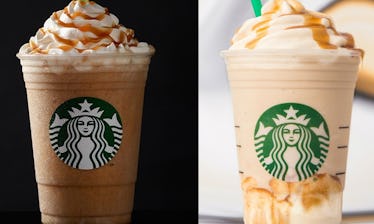 Starbucks' Ultra Caramel Frappuccino Is A Major Upgrade From The Original & I Need It
Starbucks
Tuesday, May 1 was honestly fantastic. Wait, no: It was absolutely legendary. Not only was it May Day, but it also marked the release of Starbucks' new Ultra Caramel Frappuccino. And since you're most likely familiar with the OG Caramel Frappuccino flavor, you're probably wondering what the difference between Starbucks' Ultra and original Caramel Frappuccinos is. As your official friendly Starbucks tour guide, I'm here to answer any and all coffee questions.
First, I'm going to start off by discussing the original Caramel Frappuccino's flavor, and how it compares to that of the Ultra Caramel. Per Starbucks' website, the original Caramel Frappuccino blends "buttery caramel syrup" with milk, coffee, ice, whipped cream, and, of course, all of the caramel sauce. The Caramel Frappuccino is a classic, and even though the Ultra is a total glow-up, I couldn't be happier that the OG version is here to stay.
The name of the new Ultra Caramel Frappuccino kind of says it all, as it literally takes the original Caramel Frappuccino to "the next level." The Ultra Caramel Frappuccino still has all of that caramel-y goodness, but the texture is like, ten times creamier. And don't even get me started on those layers. While the original Caramel Frappuccino merely blends caramel, coffee, and ice with a whipped cream topping, the Ultra Caramel Frappuccino has five creamy layers. The five layers consist of the new Sweet Cold Brew Whipped Cream, caramel sauce, caramel coffee Frappuccino, more whipped cream, and a final layer of caramel sauce. It's pure heaven, and I definitely recommend giving it a shot, no matter how loyal you are to the OG Caramel flavor. It's positively magnificent.
The caffeine, however, is an entirely different story... don't even get me started. Based on a little research I did, I learned that the original Caramel Frappuccino actually has more caffeine than the Ultra Caramel Frappuccino. According to Starbucks' website, it has 10 more milligrams, to be exact. I know, it was one of the most shocking things I've learned in a while, but it's the truth. The original Caramel Frappuccino has 100 milligrams of caffeine in a Grande, as opposed to the Ultra Caramel, which merely has 90 milligrams of caffeine in a Grande. That isn't something I can really explain to y'all, but it's the cold hard truth. It's science. That explanation will just have to suffice, for now.
If you've knocked back both the original Caramel and the Ultra Caramel Frappuccino, you may be seeking out a little more caffeine. Go ahead and try out another favorite Starbucks duo: the Blonde Espresso and the Dark Roast Espresso. Made with delicately roasted Latin American and East African beans, the Blonde tastes lighter, smoother, and less bitter than the dark roast. It has hint of citrus and sweet caramel, and even though it's a lighter roast, it has 225 milligrams of caffeine, which is the same as the Dark Roast. Both are delicious in their own ways — and similar to the original and Ultra Caramel Frappuccinos, choosing one will totally depend on what you're in the mood for.
While the original Caramel and the Ultra Caramel Frappuccino are simultaneously similar (but oh, so different), the flavors, texture, and the caffeine are the main differences between the two. If you're looking for a stronger flavor with a creamier taste, then I would most definitely recommend snagging an Ultra Caramel Frappuccino. However, if you're in the mood for a bit more of a caffeine boost, then you should definitely go for the original Caramel Frappuccino. Both are absolutely divine in their own ways, and it's up to you to choose which you're more in the mood for. While I'm totally here to help, I can't make that day-defining decision for you — only you can.