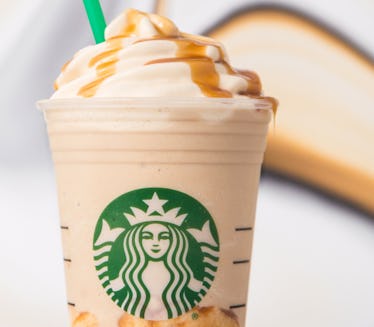 Starbucks' Ultra Caramel Frappuccino Has Less Caffeine Than The Original
Starbucks
If you consider yourself to be a hardcore Starbucks fan, then you've most likely already heard about one of their latest (and tastiest) concoctions, the Ultra Caramel Frappuccino. Its mixture of sweet caramel flavors while its cool and creamy taste is perfect for any and all summertime shenanigans. I'm completely head-over-heels in love with it, if you couldn't already tell. But if you're wondering how much caffeine is in Starbucks' Ultra Caramel Frappuccino in comparison to the OG Caramel Frappuccino, then you're in for a real surprise. It's far less than you'd expect.
Starbucks' new Ultra Caramel Frappuccino is basically a glowed-up version of the chain's original Caramel Frappuccino. It has a similar base of caramel Frappuccino and is topped off with whipped cream and caramel sauce, but it also has so much more. The Ultra Caramel Frappuccino is far fluffier, and includes dark caramel sauce. It even boasts layers on layers of the new Sweet Cold Brew Whipped Cream. It's basically the whole package, times ten. It's a dream come true.
Caffeine-wise, though? The original Caramel Frappuccino beats the Ultra Caramel Frappuccino by a long shot with 10 additional milligrams of caffeine. The original Caramel Frappuccino has 100 milligrams of caffeine in a Grande, whereas the Ultra Caramel Frappuccino only has 90 milligrams of caffeine in a Grande. It's strange, I know, but some phenomena like these are better left unexplained.
Before finding out this tidbit of information, I was convinced that choosing between the original Caramel and the Ultra Caramel would be nearly impossible. Now, I've decided that I can choose either drink based on how badly I need caffeine. If I'm feeling extra tired, the original Caramel could come in handy, with an impressive 100mg of caffeine. But if I'm looking something extra flavorful (without caring too much about the caffeine), then the Ultra Caramel is totally where it's at. I'm not entirely sure how much of a difference 10 milligrams of caffeine actually makes, but it's a relatively important factor that I'm willing to consider... especially in early morning situations, if you know what I mean.
If you're all about that rich caramel flavor, then I have some exciting news. The Ultra Caramel Frappuccino is one of the first permanent additions to the Frappuccino menu in a long, long time. You can enjoy it for the rest of your life, and you won't have to worry about any heartfelt goodbyes. And if you didn't already know, you can enjoy it right now, as we speak. It officially became available in Starbucks stores throughout the U.S. and Canada on Tuesday, May 1. Now go get 'em, tiger.
You're probably worried about what the release of the highly anticipated Ultra Caramel Frappuccino will do to your wallet, and thankfully, it looks like it won't be doing too much damage. Although the Ultra Caramel is a total flavor and texture upgrade from the original Caramel Frappuccino, its price is pretty comparable, ranging from $5.24 to $5.45. It's not too offensive (by any means), and I am thanking Starbucks with every piece of my heart. It could have been way worse than this, but it isn't. And for that, I am eternally grateful.
While the Ultra Caramel Frappuccino is very similar to the original Caramel Frappuccino, it turns out that they more defining differences than I had initially thought. Aside from the Ultra having amplified caramel flavors with an undeniably richer texture, it also has less caffeine than the original Caramel Frappuccino. However, I do love both with all of my heart, and I couldn't be happier to know that both versions are here to stay. Me love you both long time.