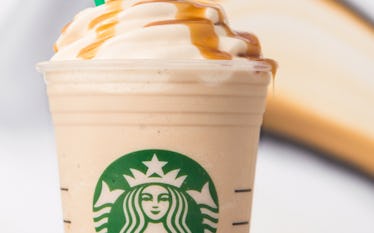 Starbucks' New Ultra Caramel Frappuccino Is Here & It's Sweeter Than Ever
Starbucks
Starbucks has some delicious drink news just in time for the warmer days of spring and summer. I don't know about you, but as soon as the temperature rises, I tend to gravitate toward the iced and frozen offerings on the Starbucks menu. While there are already plenty of delicious options from which to choose, the coffee chain is doing you one better by adding a new frappuccino to its menu. Get ready to mull over your order longer than you normally would the next time you're at the Starbucks counter, because Starbucks' Ultra Caramel Frappuccino is here.
The name of this new sip alone makes it sound like the superhero of drinks, but you're probably wondering what's actually in a Starbucks' Ultra Caramel Frappuccino. According to Starbucks, this new beverage take the Caramel Frappuccino you know and love to "the next level. Think lots of caramel, coffee, and whipped cream.
If this sounds like a sip you need to get your hands on, you can get your very own Ultra Caramel Frappcino at U.S. and Canada Starbucks stores beginning Tuesday, May 1.
According to Starbucks, the new Ultra Caramel Frappuccino puts its own twist on the OG frappuccino thanks to the drink's "extra texture, beautiful layers, and tons of flavor." Let's dig into what make these layers of flavor so tasty. The Ultra Caramel Frappuccino starts with a layer of Sweet Cold Brew Whipped Cream (more on that later), then caramel sauce, blended caramel coffee Frappuccino, more cold brew whip, and a final layer of caramel sauce. It's five layers of deliciousness, and I am so happy this now exists.
Speaking of tasty layers, the souped-up Caramel Frappucino is a treat for your taste buds, but it is also pretty enough to totally up your Instagram Story game. What more could you want in tasty frozen coffee?
Well, it turns out Starbucks is giving you more in the form of another new frappuccino flavor. In addition to the Ultra Caramel Frappuccino, the Triple Mocha Frappuccino will also join Starbucks' permanent frappuccino menu. Does this sound like big news to you? That's because it is really big news. Per Starbucks, this is "the first time in years" the brand has added new flavors to its permanent Frappuccino menu.
Now, you might be thinking: Um, I just had the Crystal Ball Frappuccino last month... Touché (also, I'm jealous, because I did not get to Starbucks in time to try the magical sip). While Starbucks releases plenty of delicious, new Frappuccino flavors throughout the year, what sets the Ultra Caramel Frappuccino and Triple Mocha Frappuccino apart from the rest is that these flavors are here to stay on the permanent menu. That means you can totally fall in love with these flavors (and add them to your regular order rotation) without worrying about when they'll leave the menu.
New frappuccinos aren't the only sips Starbucks is adding to its menu. The coffee chain also announced a new option for a tasty drinking topping with the new Sweet Cold Brew Whipped Cream. You can order it on anything your Starbucks-loving heart desires for just 50 cents extra. According to Starbucks, it's made with "a luscious infusion of cold brew coffee, dark caramel sauce, and white chocolate mocha sauce." A whipped cream made with cold brew is something I never knew I needed, but I'm now pretty sure I won't be able to live without it.
So, if you're craving a chilled caffeine boost, Starbucks is happy to make that happen for you with new flavors that are here to stay. Order up.