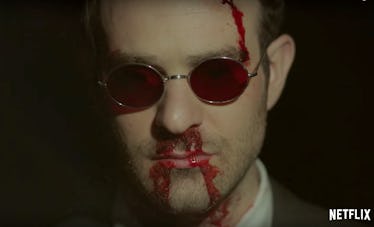 The 'Daredevil' Season 3 Poster Has A Tiny Avengers Easter Egg You Definitely Missed
Netflix
The Netflix faction of Marvel shows have flirted with their connection to the big-screen Marvel Cinematic Universe a few times before, but fans still have yet to see a real crossover between the New York City-based heroes streaming on Netflix and their big-screen allies. It's unclear whether any form of crossover will ever happen, but the new poster for Season 3 of Daredevil includes a very easy-to-miss but crucial nod to the Avengers, and it will get every Marvel fan pumped for this new season. The Daredevil Season 3 poster shows Avengers Tower hidden in the background, so get ready to a whole lot more MCU easter eggs, or hopefully even some sort of crossover.
One of the biggest questions that Marvel fans have continually wondered about the superhero franchise's Netflix shows is how much they relate to the Avengers movies. In the past, Daredevil, Jessica Jones, Luke Cage, and Iron Fist have all made small winks to the MCU — a Captain America action figure here, a mention of the fictional country Sokovia there — but have largely steered clear of any substantial references. For example, after Thanos' population-halving snap in this summer's Avengers: Infinity War, the second seasons of both Luke Cage and Iron Fist carried on business as usual.
But there is always the chance that Marvel could drop a crossover bombshell in these series, which all technically do exist within the same world as the movies. And the newly released Daredevil Season 3 poster plays up that possibility in a subtle but major way. At first glance, the new poster just looks like your standard Daredevil fare: Matt Murdock in a crucifixion pose (a reference to him mysteriously rising from the dead at the end of The Defenders) looks out over a blood-red New York cityscape.
But take a closer look at the strangely shaped building a little left of center and you might notice something familiar. Yep — that is Avengers Tower hiding right in front of our eyes.
The easter egg confirms that Avengers Tower does exist within the New York City of the Defenders, but the extent to which that will play into any of the new season of Daredevil remains questionable. Even though this is arguably the most substantial MCU easter egg that we have gotten from these Netflix shows, it is still most likely that Daredevil will continue to largely avoid connections to the movies and focus on its own storylines, which already interconnect with the rest of the Defenders' shows anyway.
Netflix also just released a new teaser trailer for Daredevil Season 3, which shows a bloodied Matt Murdock fully embracing his ruthless side after his brush with death in the Defenders finale. Most importantly, the new teaser also confirms the premiere date for Season 3, and it is less than a month away! The new season will debut on Netflix on Friday, Oct. 19, 2019. You can check out the new Daredevil Season 3 teaser for yourself below: