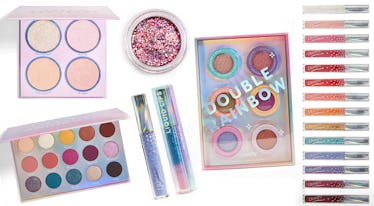 ColourPop's Holiday Collection Is Its Dreamiest Lineup Yet, & Almost All The Kits Are Under $25
Courtesy of ColourPop
If the holidays are truly a time for sugarplum fairy dreams, then the ColourPop Holiday 2018 Collection has absolutely nailed it, because their latest line of sparkly, vibrant goodness is nothing short of ethereal. Somehow, they've managed to take galactic glitters and vivid rainbow brights and make them positively dreamy, with equally pleasant packaging to boot. As someone with drawers already filled to the brim with ColourPop single shadows and lippies, I'm eager and prepared to make room in my collection for this new drop, and while I don't play favorites when it comes to my beloved makeup, I'm tempted to say this might be the brand's best collection to date.
In total, the collection is massive, consisting of one eyeshadow palette, one highlighter palette and four highlighter singles, one Super Shock Shadow vault, one kit, and six shadow singles, eight jelly shadows, nine body glitters, four lip bundles, a liquid lipstick vault, a makeup bag, and a partridge in a pear tree. I'm joking about that last one, but seriously — this line has a lot going on, and it's all so, so good. Starting with the Chasing Rainbows Pressed Powder Shadow Palette ($20, colourpop.com), a 15-pan palette which features the perfect ratio of wearable neutrals and shimmery statement shades.
The top row of the palette is neutral and bronzy, while the middle row includes some fun-yet-wearable pinky berry tones. The last row is where things get really funky, with a few metallics, teals, and a matte aubergine to smoke things out.
Jumping to the face for some major cheek shimmer, look no further than the Dream Sequence Super Shock Highlighter Palette ($18, colourpop.com), which contains four pans of downright dreamy glimmer.
"Counting Sheep" is an ivory with a silvery sheen, "Pinch Me" is an opal pink accented by violet duochrome glitters, "Guilty Pleasure" is an icy peach with golden sheen, and "Mr. Wind" is a light coral with a silvery sheen. You can also purchase any of these four Super Shock Highlighters ($8, colourpop.com) separately.
Venturing into the single shadow realm, ColourPop have created a few options. First up is a kit with six brand-new shades, each packaged in different brightly-colored components. The Double Rainbow Super Shock Shadow Kit ($25, colourpop.com) will look equally as nice on your vanity as on your lids, so as the name implies, it's a double win.
"Falling Up" is an icy taupe with hints of pink and blue glitter, "Roy G. Biv" is a pink with a gold duochrome shift, "IRL" is a yellowy green with a bronze duochrome shift, "Milky Way" is a pinky violet with a blue flip, "REM" is a periwinkle accented with lavender and silver glitter, and "ZZZ" is a metallic copper with a rose-toned flip. Each of these Super Shock Shadow Singles ($5, colourpop.com) are also available separate from the set.
Maybe you're a die-hard for the Super Shock Shadow formula and plan on using them for the rest of eternity? Might I strongly recommend the Is This Real Life? Super Shock Shadow Vault ($99, colourpop.com), which is undoubtedly one of the most beautiful things I've ever seen, in my dreams or IRL.
This baby has 25 brand new shades, some of which are as special in the pan as they are on the lid. There are five new tie dye shadows, five split-pan duos, and 10 never before made stamped shadows. My makeup collection has never before felt empty, but after seeing this, there is a hole in my heart and a spot on my vanity. I need this in my life, and TBH, you probably do, too.
Already stocked up on the brand's iconic Super Shock Shadows? Perhaps you'll be more intrigued by the Jelly Much Shadows ($8 each, colourpop.com) available in eight highly pigmented shades. The jelly formula is light and bouncy, but totally crease-proof, and a great option for anyone who isn't a fan of powder fallout.
"Morning Light" is an orangey coral with a pink flip, "Hallucinogenius" is a lavender with blue opal duochrome, "Sweet Dreams" is a pink with a silver blue flip, "Crystal Castle" is an opal with peachy pink duochrome, "No Rest For The Vivid" is a hot pink with blue duochrome, "Wide Awake" is a soft yellow gold, "Into It" is a bright jade green with gold sheen, and "Wavelength" is an opal with a light violet flip.
In addition to shadows, this ColourPop collection includes nine Glitterally Obsessed Body Glitters ($8 each, colourpop.com), and if you like some serious sparkle, you're guaranteed to want more than one. These gel-like pastes are packed with glitter, so one swipe is all you need for a pigmented pop of sparkle.
"Avenue of the Stars" is a fuschia with silver and bronze holo glitter, "Starfire" is a lavender with silver and bronze holo glitter, "Dream About Me" is a metallic copper with an orange and green shift, "Puffin" is a canary yellow with an orange and green duochrome shift, "Outside The Lines" is a true gold with holo glitter, "Eternal Sunshine" is an opal ultra-violet with purple and teal duochrome glitter, "Wish Me Luck" is an opal with copper, purple, blue, and green glitters, "Star Party" is a holo silver glitter with small and large particles, and "Keep It Plutonic" is an opal with peach and gold duochrome.
Onward to lips! In addition to lippie singles, the collection contains three four-piece lip bundles: Chroma Crush ($20, colourpop.com), Over The Rainbow ($20, colourpop.com), and Slumber Party ($20, colourpop.com).
Each of the Lip Bundles features two Ultra Glossy Lips, one Ultra Matte Lip and one Ultra Metallic Lip. Chroma Crush contains all warm-toned hues, Over The Rainbow is a spectrum-spanning statement lip set, and Slumber Party is a pretty pink dream, featuring four shades of pink and a glossy clear glitter to top things off. There's also the Dream Baby Dream Lippie Kit ($25, colourpop.com), which contains six all-new shades of Lippie Stix: two Créme, two Matte, and two Matte X.
Looking for the ultimate lipstick lover's gift? Please enjoy the Flying Colours Liquid Lipstick Vault ($80, colourpop.com) jam-packed with 14 stunning shades. The lineup includes seven Ultra Glossy Lips, three Ultra Matte Lips, two Ultra Satin Lips, and two Ultra Metallic Lips.
Maybe you're an "I want it all" kind of guy or gal? I feel that. Consider investing in the entire This Is Not A Dream Collection Set ($290, colourpop.com), which includes the Chasing Rainbows Shadow Palette, Dream Sequence Super Shock Highlighter Palette, Flying Colours Liquid Lip Vault, Double Rainbow Super Shock Shadow Kit, Dream Baby Dream Lippie Stix Kit, eight Jelly Much Shadows, and nine Glitterally Obsessed Body Glitters. I know, I know — dreams really do come true.
And it's probs not going to fit all your new buys, but feel free to stash a few in the very cute This Is Not A Dream Makeup Bag ($10, colourpop.com), which can double as gift wrap if you're generous enough to purchase any of these fun goodies for friends this holiday season.
I've said it before and I'll say it again — this holiday lineup is undoubtedly one of the brand's best collections to date. It's so dreamy and beautifully packaged, and the fact that almost everything comes available as a single item, part of a small bundle, or a larger vault set means you can find an option to suit everyone on your holiday shopping list. Or, you know, you could drop $290 in a major treat-yourself moment and buy the whole collection for yourself. I totally wouldn't judge you; in fact, I'd really envy you. The This Is Not A Dream Holiday Collection is live on the brand's site now, so make your dream a reality and get shopping.