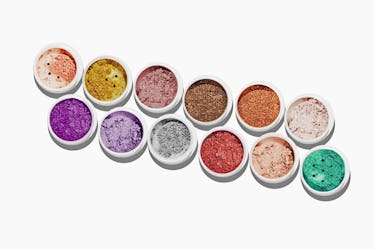 ColourPop Just Dropped $5 Shimmer Powders, If You Hate Chunky Glitter But Love To Glow
ColourPop
I would call on Mother Nature to make it spring already, if only I know how. Unfortunately, I don't have powers like Sabrina The Teenage Witch, but my make-it-spring shrine would include flowers, spring smelling essential oils, and ColourPop's spanking-new eyeshadows. How much do ColourPop's Super Star Shadows cost, you ask? They're less expensive than Salem's kitty litter, and you're going to want the entire collection.
My obsession with ColourPop Cosmetics runs so deep that I still get excited when a new launch comes out. Seriously, the brand's shock and awe factor just won't let up. They've stepped their game all the way up by dropping the most intense eyeshadows I've seen this year. I can't even say I'm shook this time, because ColourPop has caused a seismic shock with these glittery, loose powder eyeshadows.
My favorite shade is ColourPop's Super Star Loose Shadow in Baby Roo ($5, ColourPop). But at just $5 per shadow, you can pick up several of the standout shades such as "Golightly" (vivid, metallic yellow gold), "Badlands" (violet with pink and blue glitter), "Upshot" (jade green with silver glitter), or "Vertigo" (bright red-orange with pink glitter). Or you can get your eyes wet (pun intended) with more subtle shades like "Lifted" (soft pinky lavender with gold glitter), "Wnkd" (creamy vanilla with pink and gold glitter) or "Typhoon" (iridescent white with silver and blue glitter).
And if you happen to want every single one of the new shadows, ColourPop is one step ahead. ColourPop's Super Star Loose Shadow collection ($50, ColourPop) features 13 rich and pigmented shades. The colors range from a sparkling, blue duo-chrome silver to a yellow-gold, including shimmering mermaid green and a standout ultraviolet.
I went through a really intense geology phase when I was younger, and these shades look like shaved down versions of extraterrestrial items. The eyeshadows also have a dual purpose: You can wear the pigments wet or dry, depending on the type of eye look you're trying to achieve. If you want a more wet look, all you have to do is wet a makeup brush (not a lot, just until it's damp) and that will intensify the color of the shades. Boom.
The pigments are soft, silky, smooth and apply easily. According to ColourPop's Product Development Manager, you can apply the multi-purpose pigments on your eyes, lips, and cheeks. In fact, the ColourPop team gave an in-depth tutorial on how to use the shades, just in case you're clueless when it comes to loose pigment shadows.
How to Apply Super Star Loose Pigment Shadow
"I always like to do base on one side, then your pigment because it's so important that you apply your pigment while your base is still wet...If you press, press, press you'll get the pigment right where you want it...My favorite way to apply this pigment is with a dampened brush because you get these amazing, foiled metallic end looks that are just insane."
The pigments look gorgeous when you apply them to your eyes dry, but I'm obsessed with the wet look. The foiled look is going to be in once the weather warms up, and if fashion month is any indication, it will be everywhere. Even if you're not a fan of glitter, you might find sparkle you love in this formula.
Sometimes glitter products can come across chunky and fake, but not these smooth operators. For festivals or nights out when you want to look dramatic, that type of actual glitter is the way to go. But ColourPop's shadows are ideal if you want more of a subtle, folio look.
ColourPop, these shadows are totally not basic material, and for only $5 a pop, I would go to Mars and back just to score these iridescent pigments.