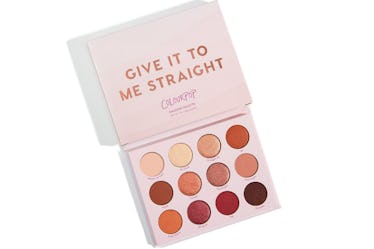 ColourPop's "Give It To Me Straight" Palette Is The Perf V-Day Gift For An Ambiguous Texter
@colourpop instagram
With Valentine's Day on the horizon, it doesn't matter if you're a woman in love or checking the "building my empire box". Countless beauty brands are blessing the beginning of the year with mega beauty launches. Just in time for V-Day, ColourPop's "Give It To Me Straight" Eyeshadow Palette just launched. If you're stuck in the middle trying to get your guy to #DTR (define the relationship), ColourPop is coming in the clutch, and their intentions are oh so clear.
The "Give It To Me Straight" ($16, Colourpop) palette includes 12 super pigmented shadows ranging from coppery hues to more golden shimmers. Just looking at the swatches, the colors seem super velvety, so if you're the type that loves a more subtle look, apply with a light hand. I think this is going to be the perfect experimental palette. When I was younger, I loved everything that glimmered, shimmered, and shined. Adulthood has made me a bit apprehensive to branch out, but I'm so here for these brands pushing us beyond the comfort zone.
The color spectrum is beyond major. From "Matter of Fact" (pale pink) to "Actually..." (matte deepened chocolate brown), this palette has everything you need to create a natural to dramatic eye. The seven matte and five metallic shades can be used wet or dry.
Personally, I wonder how some of these shades would double as a highlight. Although I'm obsessed with the warm coppers, the mauves are gorgeous. The best thing about this palette is that the payoff looks like it will be great for different types of skin tones. That means while you and your bestie are getting ready to go out, both of you can play around with this palette. Sharing is caring, after all.
A bad (or good) habit I have is perusing beauty blogs for new launches, and so far there's a lot of buzz about this palette. One of the biggest complaints about the palette is that the shades aren't anything special, but that's what makes it a clutch everyday collection, IMHO.
The average woman doesn't have the makeup collection of a beauty guru, and sometimes can't afford the big makeup launches. Seriously, I'm obsessed with makeup, but if I have to choose between the Tarte Maneater Palette ($30, Tarte Cosmetics) which this palette is being compared to, and topping up my subway card, I have to go with the latter. ColourPop always comes in the clutch when I'm obsessed with a product, but am on a budget. You can have your makeup, and maybe splurge on an Uber, too.
The Give It To Me Straight palette lives up to its name. The colors are straightforward, and there's every pigment I need to take me from day to night. I can easily throw this in my purse and do a quick makeup beat in the bathroom. Let's not forget travel as well. I know when I travel, I want to look good, but bringing five palettes takes up so much space. I need that room for shoes, my friends.
In addition to the eyeshadow palette, ColourPop also launched the In-Nude-Endo Highlighter Palette ($18, Colourpop). Featuring six highlighters, not only are the names super cheeky, but the high shine from super fine pearls add a glowing finish to the skin. Based on the website, the colors don't look as universal as the eyeshadow palette, but I feel like a couple beauty gurus have to do some tutorials before the verdict is out on this one. With highlighters, I feel like you can't count them out until you actually try the product.
Whether you're the type of women sending ambiguous innuendos or you prefer to get straight to the point, ColourPop is giving you options. Why settle on one, when you can be (and have) both?