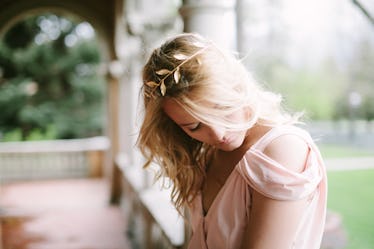 The Bridesmaid Dress Color For Your Wedding, Based On Your Zodiac Sign
Gabrielle Lutze/Stocksy
Here comes the bride, and of course, the bridesmaids! Some of us have been dreaming about our wedding day since kindergarten. We'd play house in preschool and get married to our classmate crush with a pillowcase as a veil. Nowadays, those daydreams have turned into secret Pinterest boards with dresses we'd love to buy and DIY centerpieces. Oh yes, we love love -- and whether or not you have a significant other in your life, you've probably already had some thoughts about your special day. I hope you don't mind, but we took the liberty of picking the color of bridesmaid dresses for your wedding, based on your zodiac sign.
We watch hours of Say Yes To The Dress with our best friends (It's always on, we can't help it!) So, we already have a pretty good idea of the style of dress we want to "say yes" to. Maybe you like something with a lot of lace, or a big tulle skirt. Whatever it may be, you already can't wait for your fitting.
But getting married wouldn't be quite the same without your best friends by your side. They've watched you and your special someone grow together, and were there when it all started. You probably remember running to them with all the details from your first date, and if you're lucky, they've become best friends, too.
It would only be right to put a lot of consideration into what your gal pals will be wearing on your special day. It's your wedding, but you want them to look good and feel good -- especially for the pre-cocktail hour pictures! Here's what color your squad should be wearing, according to your zodiac sign.