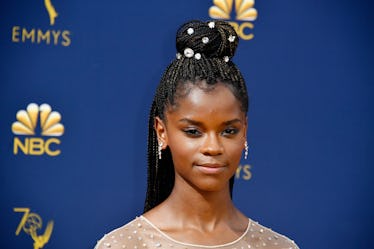 Hair Accessories Outshone The Most Dazzling Dresses On The Emmys Red Carpet By Far
Frazer Harrison/Getty Images Entertainment/Getty Images
Last night was marked by indescribable sartorial glamour with sparkles, satin, gold foiling, and neons all lighting up the red—or should we say blue—carpet. Surprisingly, though, it was the 2018 Emmys hair trend championed by everyone from Letitia Wright to Evan Rachel Wood that completely owned the evening and outshone every gold necklace, diamond earring, and luxe gown out there. If you're on the hunt for a new beauty look to try out for fall that'll make you stand out among a crowd, pay close attention.
Ironically enough, the hair trend had less to do with the hair itself that what was actually pinned into and onto it. Clippable and pinable accessories of every shape and form were the final touches—the pièces de résistance, if you will—for a slew of the night's standout looks, which wouldn't have been nearly as arresting without their head-turning toppers. Some took form in the shape of dazzling gems while others had a decidedly more naturally vibe to them. So no matter whether your style is more bohemian goddess or old Hollywood glam, there will be a hair accessory that will fit it. Checkout the best ones spotted at the Emmys below and get inspired to search for one of your own.
Power Flowers
Evan Rachel Wood, who was nominated for Lead Actress in a Drama Series for her portrayal of Dolores Abernathy in Westworld, arrived to the awards show wearing a stunning Altuzarra dress-like blazer and trousers, which beautifully contrasted with the swag of fresh colorful flowers pinned into her hair. The flowers rested atop a low loose bun and gave the look, which was created by TRESemmé Celebrity Stylist John D., a romantic, almost renaissance-like effect
Madeline Brewer, who you'll know from The Handmaid's Tale, also tried out a garden-inspired accessory, although hers read more classic icon than colorful free spirit thanks to its all-white color palette. White roses will always be synonymous with timeless beauty.
Starry Night
This beauty look was hands down the winner of the night thanks to diamond-like stones that dotted Letitia Wright's braided topknot. Wright was nominated for Outstanding Supporting Actress in a Miniseries or a Movie for her role as Nish in Black Mirror's "Black Museum" episode (it's a must) but you might know her as Shuri in Black Panther. This hairstyle makes her look every bit the princess she portrays and infuses her entire look with delicate elegance. The next time you twist your hair into a bun or knot of any kind consider studding it with similar gemstones. (Hello New Year's Eve 2018 look!)
Bow Down (& Up)
Leave it to a model and fashion queen to bring a strong hair game to the Emmys red carpet. Poppy Delevigne arrived to the event with her blonde strands pulled back into a sleek high ponytail, making way for the blinding creations that hung from her ears. A velvet bow was tied around the top of her ponytail which, while incredibly chic, isn't necessarily surprising seeing as bows have been trending on the catwalk and red carpet as of late. What does make the look incredibly unique is the second ribbon that was tied around the bottom of Delevigne's ponytail. Are two bows better than one? They are now.
Other honorable mentions within the best accessorized hair category include Yvonne Orji, whose updo was accented with a shimmery silver bobby pin; and Sadie Sink, whose bun was held together by thick white thread that was woven in and out of its coils.