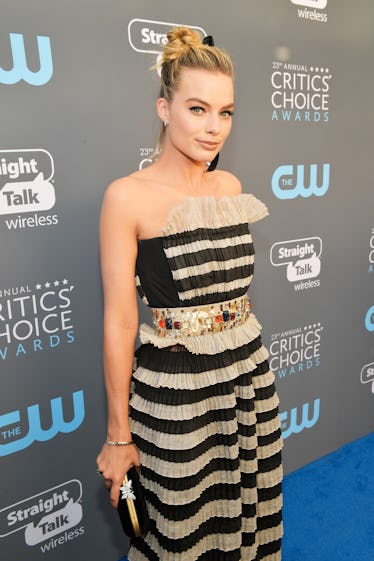 A 50 Cent Hair Accessory Is All Over Red Carpets & Your Middle School Self Will Rejoice
Matt Winkelmeyer/Getty Images Entertainment/Getty Images
I love it when high profile celebrities and rich fashion bloggers alike wear something that I can actually afford. Because $1,340 crystal-encrusted Gucci socks are just not happening for me anytime soon. (I'm looking at you, J. Lo.) Margot Robbie's hair ribbon, which would probably cost you less than a Starbucks latte, is therefore like a dream come true.
On Jan. 11, the actress arrived at the Critics Choice Awards wearing a gorgeous Chanel dress that on its own made quite the gorgeous statement. (One outlet said she looked like a "chic Hamburglar," which, while funny, I disagree with.) Featuring white and black stripes, layers of pleats, and a jewel encrusted belt, it reminded me more of a French victorian gown than the uniform of the infamous beef thief. But it was Robbie's hairdo, and the ribbon within it in particular, that really stole the spotlight.
Her hair, which in its natural state takes shape as a buttery lob, was twisted up into a messy, off-center topknot. Featuring random whispies and fly aways at the nape of her neck, it was what many of my high school hair days were made of, and also reminded me of the on-screen persona Robbie was at the awards show for portraying. (She won Best Actress in a Comedy for her portrayal of figure skater Tonya Harding in I, Tonya.) Had it not been for a statement making accessory that was pinned into the bun, the hairstyle might have looked totally out of place on one of the most important red carpets of the season.
Perched precariously on the side of the bun was a black bow that had been tied out of velvet ribbon. The ends of the ribbon had been left long, and trailed down the actresses neck, touching her back just below the shoulders. It looked like a bow that a fifth grader had tied in art class — which is actually why I love it so much. Go to any craft store on earth and you'll be able to find velvet ribbon in all widths, colors and lengths. It is the most accessible and easily replicated accessory that I've ever seen on the red carpet, and I am living for it!
Evidently, the fashion world is too. The velvet hair bow started popping up as an accessory du jour last year, when major brands including Tory Burch, Temperly London, Marchesa and Emilia Wickstead sent models down their runways wearing the trend. Depending how it's styled, it can give off major vintage or French girl or prim vibes, so it makes sense that designers across aesthetics would be able to all incorporate the trend.
From there, celebrities including Mandy Moore, Emily Ratajkowski, and Sienna Miller — aka some of the most stylish women around — began stepping out in the trend. It's an effortlessly cool way to add a touch of uniqueness to any look and considering it's still a relatively new trend, it's also a way to make yourself stand out at an event or on a red carpet.
Speaking of, black velvet ribbons have cropped up on the red carpet before, just in a different yet equally chic way. Flashback to one year ago, and we saw Michelle Williams wear one tied in a bow around her neck to the 2017 Golden Globes. Her look was one of my favorites of the night; it merged '90s nostalgia with French glamour perfectly, which makes sense since her dress was created by French fashion house Louis Vuitton.
If you're feeling like your wardrobe needs a refresh but you don't want to drop hundreds of dollars, considers making a trip to Michael's and getting a few rolls of velvety ribbon. Whether you tie it around your hair, your neck, your bag or your wrist, it'll add a personalized touch to any outfit. Because high fashion can be low cost....sometimes.