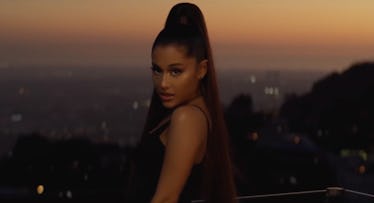 These Are The Best Songs From Ariana Grande's 'Thank U, Next' Album To Work Out To
Sticking to the same gym routine can get monotonous quickly. If you're getting into a little bit of a rut with your own regimen, you're in luck, because the workout songs on Ariana Grande's Thank U, Next album are poppin'. The 12-track lineup is pretty varied in terms of style, so there's a song for just about any kind of exercise you can imagine. Whether you're crushing a HIIT circuit, a long run, or even a yoga flow, Ari's got a bop for you to play on repeat while you sweat your stuff.
Of course, if you work out on the reg, you probably already have a go-to list of songs to keep your energy up. But adding some new tunes to your repertoire can do wonders to keep you interested and engaged in your routine. "Getting creative with moves and music can keep things efficient, effective, and fun," Vince Sant, fitness expert, certified trainer, and co-founder of V Shred, an online fitness portal, tells Elite Daily in an email.
Putting together a good workout playlist can also be a great way to harness the power of emotion to fuel your energy for an amazing sweat session, explains Carrie Dorr, founder and former CEO of Pure Barre. "Music is a powerful motivator and can have an amazing impact on your workout," she tells Elite Daily over email. "To optimize your playlist, choose songs with higher beats per minute (BPMs) for faster exercise (cardio) and lower BPMs for slower exercise (strength training, stretching)."
Are you ready to channel all of your frustration into a high-energy run, or calm things down with a gentle yoga session? GOOD, because Ari's new album has the perfect song for whatever it is your body might be craving.