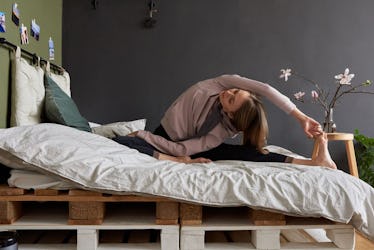 If Exercise Space Is Limited In Your Apartment, Consider These Pieces Of Equipment
While packing up my belongings days before my wedding, it struck me that I was the last of four to flee the nest, leaving my parents all alone in a house built for six that could probably fit eight. I remember asking them if they'd given any thought to what they could do with four spare bedrooms, and my dad casually mentioned his idea for a home gym. I was pretty jealous of his vision, TBH. (The one-bedroom I was moving into was definitely not home gym material.) Inspired, I started researching the best workout equipment for a small apartment. Granted, I already had a lot of things to squeeze into my just-right-for-a-bachelor-pad digs my husband was residing in at the time, but fitness had always been a priority for me, so what was one or two more items to add to the pile?
Listen, some people dream about in-ground pools and fancy bar carts when they imagine a place of their own. I've always pictured my own library and a home gym. Two lofty dreams — I know — and definitely not always feasible. A bar cart can fit comfortably in the corner of a small apartment dining area. A treadmill can barely make it up the stairs, depending on the architecture of your home.
So if your goal is to stock up on enough exercise equipment that allows you to perform an array of moves, without compromising a lot of space in your small apartment, know that it's not impossible, but it will take some planning. Here are a few of the best pieces of workout equipment for a small apartment to add to your shopping list.
We only include products that have been independently selected by Elite Daily's editorial team. However, we may receive a portion of sales if you purchase a product through a link in this article.