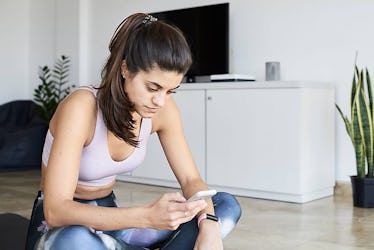 The 7 Best Things About Working Out At Home, According To Fitness Experts
This might be a shock to the #fitfam — as per social media's standards, the gym life is the only life — but not everyone who wants to work out, wants to work out at the gym. There's a stigma surrounding home workouts, and a skepticism over whether training in your living room can actually yield results, which, TBH, is pretty ridiculous. It's just like legendary fitness instructor, Denise Wilcox, once said: "Your muscles don't know if they're in a fancy home or gym." As long as you're putting in the work, there are benefits to working out at home, just as there are benefits to working up a sweat in a crowded studio.
Coming from someone who once swore that the only effective workout was a gym workout, I now know for a fact that working out at home can be just as intense and sweaty as an hour spent on a treadmill in a crowded fitness center. In fact, these days, I prefer to do most workouts in my office space or bedroom, because it's just what works for my schedule. So, no, the purpose of this article isn't to say that home practices are better than gym memberships; there are pros and cons to both sides of the fitness spectrum, and it all depends on your preference.
However, if you're someone who's skeptical about home workouts, you might have a different opinion by the time we're done here. Here are some of the benefits that come with sweating it out at home, according to experts.