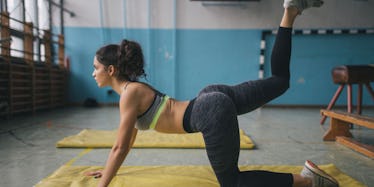 Make Sure You Do These 7 Things When You're At The Gym To Avoid Getting Sick
Whenever you're making #gains at the gym, you're likely coming in contact with copious amounts of #germs in the process, especially during the cold-infused holiday season. I don't know about you, but personally, I can literally feel germs circulating in the stagnant air of my fitness center whenever I'm squeezing in a sweat sesh lately, and TBH... it's disgusting. There are, however, ways to avoid getting sick at the gym so that you don't have to ditch your beloved workouts in the name of maintaining your health (because, uh, how ironic would that be?).
From locker rooms, to exercise mats, to cardio machines, to towels, gyms are literally a playground of bacteria. And it's not just germs that can cause a pesky, common cold. Philip Tierno Jr., PhD, a clinical professor of microbiology and pathology at NYU Medical School and the author of The Secret Life of Germs told Fitness Magazine that there can even be microbes like MRSA (an antibiotic-resistant bacteria that can result in dangerous skin infections if you come in contact with it) lurking in your fitness center.
From the flu to colds to objectionable infections, let's just say that your local gym probably isn't the cleanest place to be and, sadly, it's a lot easier to get sick during the holidays when everyone's out and about. But that doesn't mean you have to abandon ship. Here are seven ways you can avoid getting sick at the gym this season, even when it feels like germs are legit everywhere.