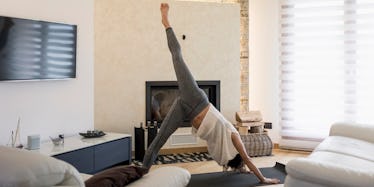 Try These 7 Home Workouts When You're Short On Time & Can't Make It To The Gym
Maintaining a consistent fitness routine is all about working around your own schedule, and making time for movement that you enjoy within your busy day-to-day. Sometimes, an hour-long trip to the gym or your favorite fitness studio just isn't in the cards, but that doesn't mean you should throw in the towel and totally give up on any sort of movement for the day. As long as you have a few quick home workouts in your back pocket that you can turn to on those days when you're super short on time, a regular workout routine doesn't have to be so ridiculously impossible to master.
When it comes to fitness, it can be all to easy to fall into that all-or-nothing mentality, but as with most things in life, finding balance is key. Sure, you'll be able to fit in those lengthy workouts some days, but when your to-do list is miles long, opting for those mini versions of your favorite exercises will help you stay on track and keep you dedicated to the movement you love most.
Rest assured, there are plenty of workouts that don't require a trip to the gym or even fancy equipment — and they can be done in 20 minutes or less to accommodate that busy schedule of yours. Here are seven ways to challenge your body at home when you don't have a ton of time, but still want to get your sweat on.