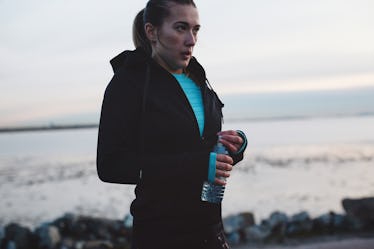 5 Workouts For When You're Angry & Need To Release Some Pent-Up Energy
Everyone knows what it feels like to have a sh*tty day; it's simply a part of being human. And on those days when it feels like all of the negative energy and mental tension is literally piling up inside of you and getting ready to explode, sometimes hitting the gym and sweating it out is exactly what you need to literally blow off some steam. Coming up with a few workouts for when you're angry is a great way to channel that rage in a healthy way and translate it into some kickass, feel-good movement.
Whether you're hitting the weight room, pounding the pavement, or rolling out your mat for a soothing yoga flow, exercise is a great way to relieve stress and take your mind off of things that are pissing you the f*ck off. While the type of workout you do is totally up to you, and what makes your body feel good that day, there are a couple of exercises that are especially effective for when you feel particularly furious.
The next time someone or something is really getting on your nerves and you need an outlet to channel all the feels ASAP, try these five anger-busting exercises to take a breather and release frustrating, pent-up energy.