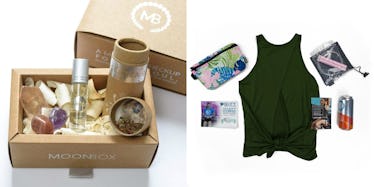 The Best Wellness Subscription Boxes To Start Your New Year Off On The Right Foot
MoonBox/BarBella
December means holidays and gift-giving galore, but it also signifies the end of a year and the impending arrival of another. It's a time to turn over a new leaf, to consider what priorities will be important to you in the new year. But it can feel a little daunting to figure out what the next 365 days of your life will look, right? Enter: subscription boxes, aka the gift that truly keeps on giving. For 2019, why not look into the best wellness subscription boxes to help you take care of yourself throughout the new year? It's an easy way to explore new interests you've been meaning to look into, and if nothing else, it's a nice way to treat yo'self on a regular basis.
Each of these subscription boxes is targeted to a specific aspect of your life, so you can pick and choose whichever part of yourself could use a little more attention or extra love in 2019. Plus, many of these services prioritize supporting small businesses and individual artisans, so you'll be getting unique products and helping someone else continue their passion.
Whether you choose to travel to a balmy island through Vacation Crate or connect more deeply to the lunar cycle by subscribing to MoonBox, you'll have all the tools you need to learn something new and take care of yourself in 2019.