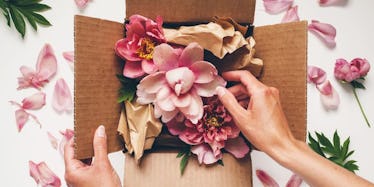 These 5 Wellness Subscription Boxes Will Breathe New Life Into Your Usual Routine
You know you've gotten bored before with your everyday routine -- we all have. Even though you've finally figured out what foods you like to cook and what products work best for you, you can't help feeling like you need a little something special to add to the mix. But who has time to shop around for that special something, especially when you're not even sure what it is you're actually looking for?
Thankfully, subscription boxes are one of the few perks of living in 2017, and they may just provide that breath of fresh air you're searching for.
Here are five subscription boxes that will revitalize your whole wellness routine in the most convenient way possible.
1. For When You Want To Try New Foods, But You Don't Know Who To Trust
Trashfish Box, $26
If you're looking to expand your palate, but you're nervous to try things like seafood for the first time, Trashfish Box is definitely for you.
This monthly membership program offers sustainable seafood paired with a complementary pantry item, both of which are delivered to your home every two weeks to make cooking as easy as can be.
2. For When You Need To Heal, But You Don't Know The First Thing About Crystals
Enchanted Crystal, $16
An Enchanted Crystal box can contain just about any type of crystal you can think of, from amethyst, to quartz, to aquamarine.
The best part about this program is you really don't have to worry about knowing even a single thing about how to use a healing crystal, as each box comes with all the information you'll need.
Bonus points: The crystals are delivered in eco-friendly packaging. Yay for the environment!
3. For When You're An Avid Snacker, But You Want To Be Healthy
Graze, $14
This one goes out to all my fellow peeps who love to graze their food throughout the day.
Snacking is obviously a great way to curb your hunger as you go through your day, but it's really easy to fall into a habit of picking up whatever is easily at your disposal -- which is usually something like a salty bag of chips or a sugar-laden piece of candy.
Graze is dedicated to making sure you're treating your taste buds to only the tastiest, healthiest, and best-quality snacks they can offer.
They provide regular deliveries of a huge variety of snacks (trust me, you'll never get bored), all of which are perfectly portioned to satisfy your cravings.
4. For When Your Self-Care Routine Needs A Magic Touch
Sassboxx, $25
SassBoxx is for any woman who promotes and participates in self-love, but maybe feels like she doesn't have the time to really give to herself the way she should.
This special box is delivered right to your door with everything you never knew you needed to help you indulge in self-care and leave your soul feeling radiant AF.
Each month gifts you with a new set of lifestyle and beauty products -- like soothing candles, inspirational notepads, and mugs with spunky slogans printed on them -- all of which come from brands owned by women of color.
5. For When You Need Healthy Options For The Low-Low
Bulu Box, $10
Bulu Box packs in a variety of healthy and nutritious products for the mind-blowing cost of just $10 a month.
In just one box, you might find things like vitamins, energy supplements, and protein bars, just to name a few.