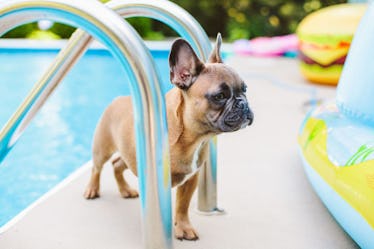 Up Your Pup's Insta Game With These Pool Floats That Are Picture-Pawfect
It may be pretty hard to believe, but there is someone on this planet who loves summer more than you. *Cue the gasps.* It's not your roommate, or even your sister who's been texting you a countdown to your family's annual barbecue on the beach. Spoiler alert: It's your pup — aka, your very best friend. Yes, your pup truly loves the season of sun, surf, and sand. They love diving into the waves and chasing balls in your backyard, without having to dodge big piles of snow. You can expect that they'll be wagging their tail for the next few months, and maybe pointing out the best pool floats for dogs online. Actually, pointing out picture paw-fect pool floats is my job. Sorry about that!
Don't get me wrong, your pup tapping their paw against your laptop screen while you casually hit the "Add to Cart" button would be cute AF. My heart is exploding just thinking about them gazing over at you with those puppy dog eyes, and whining when a flamingo-shaped float appears. But, even though they're so good and smart, they don't know exactly how to pick out items that are Instagram-worthy.
Let's be honest: That's the real reason why you're looking for a float for your pup this summer! You want to up their social media game, let them have a blast, and show the other pets who's boss. You'll need (or all) of these five pool floats then, huh?