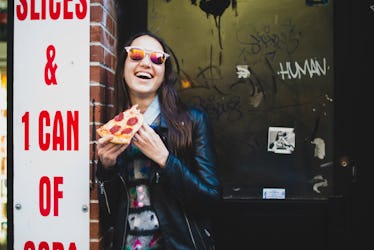 The Best Late-Night Snack For You, Based On Your Zodiac Sign
It's late, and you're hungry. You've got Netflix on, and you simply can't think of the right treat to munch on that will really, truly hit the spot. Well, worry not, my peckish-yet-indecisive friends, because for your eating pleasure, I have compiled a list of the best late night snacks for you, based on your zodiac sign. Yes, astrology lovers, you can thank me as you're wiping the crumbs off your comforter, because I've got you totally covered on this one.
Now, listen, I know late-night snacking gets a bad rap sometimes, and sure, some people (aka doctors) often say it's bad for your circadian rhythm, and that you should do most of your eating in the daytime. But let's be real here: Who doesn't need a little something to munch on at midnight from time to time? Whether it's popcorn, chocolate, or a delectable combination of the two (any snack that is salty and sweet is automatically the best — do not fight me on this), everyone has a favorite late-night snack they look forward to digging into in the wee hours of the evening.
But if you find yourself standing in front of your fridge with your tummy rumbling and your mouth agape, with no clue how to satisfy your late-night hunger, here's what your go-to midnight snack should be, according to your zodiac sign.