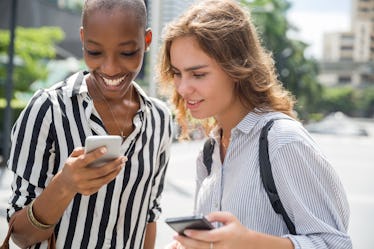 These 3 Zodiac Signs Will Have So Much More Career Success In The Spring
The winter months can do a number on your bank account, as well as stretch your energy pretty thin at work. With the holidays inhaling every cent you're worth so you don't show up empty handed to your family Christmas party, and your career demanding you tie up every loose end before the year's over, it's easy to feel like you've just barely survived a disaster once it's all said and done with. If you're still reeling from all the financial mayhem, strap yourselves in for some riveting news because these three zodiac signs will have so much more career success in the spring: Cancer, Virgo, and Pisces.
By the time spring descends on us with the ambitious fire of Aries season, the focus of grounding Taurus, and the quick-witted breeze of Gemini, our vitality at work has had enough time to completely replenish. We'll be amped up, brimming with smart ideas, and more ready than ever to execute them. It's during spring that we fully return to the grind, determined to improve our livelihoods and make a name for ourselves. We do have Saturn and Pluto going into retrograde during spring, but that still won't sully the fortitude of these three signs:
Cancer
Your career will be catapulted into success the second spring begins with the Sun passing through your 10th house of career. You'll be enjoying yourself at work, looking attractive and successful to all your colleagues, and your boss will definitely notice the great strides you're making. All this dynamic energy makes it the perfect time to get out there and network at a few work events. You'll light up the room the moment you set foot in it.
This upward climb continues well into April and May. Your reputation is sparkling like diamonds and you'll be the talk of the town. Everyone will be recommending you to get important jobs done and clients will be giving you rave reviews. This will definitely cause your wallet to swell up, and you'll be grateful for it after all the financial stress you experienced during winter.
In June, you'll feel drawn to your home and family and you'll want to take a breather from all this career excitement. This won't dampen your success, for all your superiors will agree that you deserve a little R&R.
Virgo
Venus will be moving through Taurus and lighting up your 9th house of luck during the beginning of spring. This is everything you could ever hope for in your career. You'll get into a comfortable groove where you'll be able to get a lot done in a short amount of time, making you extremely productive. Things are likely to go your way and if you're really feeling your confidence levels expand, this is prime time to ask for a raise. You just might get it!
Venus then moves through your 10th house of career and by May, so does the Sun. It'll feel like a guardian angel is hovering her magic wand around your important decisions at work, making them all go over smoothly. Work will feel like such a breeze that you'll be able to take on more responsibilities without any added stress.
By June, you'll see the fruits of your labor in some seriously loaded pay days. This will start your summer off with a bang and you'll want to plan some vacations or invest in some luxurious you've been eyeing.
Pisces
The Sun moves through your 2nd house of money as soon as Aries season begins. This will present you one financial opportunity after another and you'll be swimming in options. Winter was a smooth time for you as well, allowing you just enough spiritual rejuvenation to take on these career prospects with zeal.
April will allow you to dip deep into matters of your unconscious and with Mercury now joining the Sun in your 2nd house, it looks like you'll be living the dream of all dreams: being able to provide for yourself by doing what you love. If you're not already doing what you love for a living, now's the time to take the risk and go for it. The stars and planets are hoping you will.
Mars will power up your 12th house of spirituality in May, only strengthening the fusion between your livelihood and your passions in life. Pisces, making money will be fun. Who'd have thought?
You'll feel ready to take a rest from all this ambition when June arrives, however. Planets will leave your financial and career houses behind, only to allow your 4th house of home to take over your horoscope. You've been working hard, Pisces, and you'll relish the chance to tell your loved ones all about it.