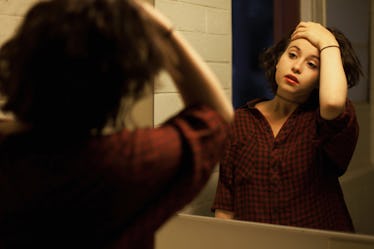 The Best Foods For Dry Skin, According To Ayurvedic Medicine Experts
Have you ever heard the turn of phrase, "Your eyes are the window to your soul"? As cheesy as it sounds, aesthetics can give you away, in ways you'd least expect them to. Take your skin, for example. When your complexion is supple and blemish-free, it's a telling sign you've probably found the right moisturizer, and that you usually clock in a good night's rest. Flaky cheeks and uneven pigmentation, however, can represent things like change of season, a reaction to cosmetic products, and even a poor diet. Implementing the best foods for dry skin into your diet on a regular basis should be a top priority, regardless of whether or not your chin feels rough from one day to the next, because beauty stems from the inside out. In other words, when you feel good, you look good, and that's literally reflected in your skin.
In Ayurvedic traditions, food is not only fuel for your body; it's medicinal, as well as cosmetic. What you should eat circles back to what's known as your "prakruti," or "nature." According to The Chopra Center, your prakruti is made up of "doshas," which are said to be three substances present in the human body derived by the five elements (earth, wind, fire, water, void) named Vata, Pitta, and Kapha.
Pitta deals with fire and water, and Kapha deals with water and earth, but Vata, derived from space and air, is what has a hand in the way your skin looks when it's completely dehydrated. See, Vata is said to reflect space and air elements, and is often described as cold and dry, which is what comes through most often in fall and winter months — you know, when your skin starts to dry TF out because there's little to no moisture in the air. So in order to salvage dry skin, Ayurvedic experts suggest adding these five foods into your daily diet.