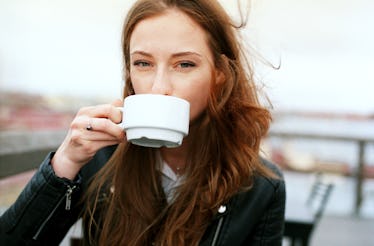 Experts Reveal The 7 Best Foods For Your Skin & Honestly, They Sound Delicious
As luxurious as a 12-step skincare routine sounds, it takes a lot of time out of your day to set up shop in front of the bathroom sink to pat on a series of serums and rinse off a double-whammy of cleanser. Trust me, you don't have to feel guilty about not spending 30 whole minutes on a lengthy skincare regimen every day. Rest assured, there are plenty of ways to help your skin feel and look its best, and that don't require any pricy products. In fact, I'm willing to bet some of the best foods for your skin are already tucked away in your refrigerator or one of your kitchen cabinets. If not, I promise they're super easy to add to meals and snacks you already love.
Think about the types of food you eat on a daily basis. Generally speaking, beautiful skin is going to be a natural result of eating a healthy and balanced diet. So, if you know you're notorious for snacking on processed foods all day long, and greasy french fries are a staple at your dinner table more often than not, chances are, your skin's bound to suffer.
Have you ever heard of an "inner glow"? Well, according to Dr. Karin Hermoni, head of science and nutrition at Lycored, that glow comes, at least partially, from the foods that fuel your body. She tells Elite Daily that, in order to achieve glowing, beautiful skin, the first step is "to do it from the inside out." This means eating healthily, and eating a lot of different foods to cover all the essential nutritional bases. A solid foundation, she says, is to "eat the rainbow" by incorporating a ton of fruits, veggies, spices, etc. into everything you eat. Here are a few of the best foods for your skin to get you started.